Author Ness 'chuffed' to win children's book award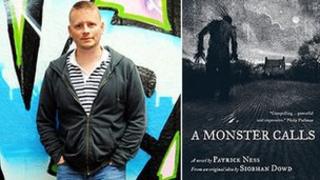 A book about a boy and his terminally ill mother, conceived by a writer who herself died from cancer, has won a prize decided solely by young readers.
American author Patrick Ness said he was "chuffed" to receive the Red House children's book award for A Monster Calls at London's Southbank Centre.
The book was based on an idea by author Siobhan Dowd, who died in 2007 before she could start work on it herself.
War Horse author Michael Morpurgo won last year's prize for his novel Shadow.
The monster in Ness's 2011 novel is a walking, talking yew tree that calls on its 13-year-old protagonist Conor.
The book features stark and haunting illustrations by Jim Kay, who said he was "bowled over" to share the award.
"It's great to think that it's all down to young people reading and discussing wonderful new stories," the illustrator added.
"It's been a pleasure to work on such a brave and moving book."
"Winning the Red House is terrific, especially because it's chosen by young readers themselves," said Ness, whose book won both the Older Readers prize and the overall award.
"As a writer for young people, I know how bracingly honest they can be about their opinions, so to have been selected from a really strong shortlist is a splendid feeling."
More than 83,000 votes were cast by children and young adults for this year's awards, which also saw two other titles recognised.
Scruffy Bear and the Six White Mice by Chris Wormell won the Younger Children category, while The Brilliant World of Tom Gates by Liz Pichon came top in the Younger Readers poll.
The Red House Children's Book awards were launched in 1980 and have recognised the likes of JK Rowling, Roald Dahl and Jacqueline Wilson in the intervening years.