Brian Cox brings Bob Servant to TV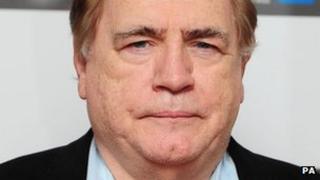 Veteran actor Brian Cox is to bring his Radio 4 character Bob Servant, a pompous Dundonian businessman, to the small screen for a BBC Four series.
The character, created by Neil Forsyth, first appeared in the 2007 book Delete This At Your Peril, which featured email exchanges with internet scammers.
Bob Servant Independent will follow the character's attempts to become the MP for Broughty Ferry.
Cox said the TV transfer would capture the series' "unique east coast humour".
The 65-year-old actor also praised "the comic writing skills of fellow Dundonian Neil Forsyth and the audacious spirit of Bob Servant".
Cox, who has starred in Hollywood films Troy and the Bourne series, first played the role on BBC Radio Scotland's The Bob Servant Emails, which was later broadcast on Radio 4.
Forsyth's character also features in books Bob Servant - Hero of Dundee and Why Me? The Very Important Emails of Bob Servant.
The fictional character is described on his website as "Scotland's most respected man of letters".
"In the 1970s, his window cleaning round was generally accepted as being the largest in western Europe while his key role in Dundee's cheeseburger wars of the 1980s saw him pushed to national prominence," it adds.