Matilda musical wins four theatre audience awards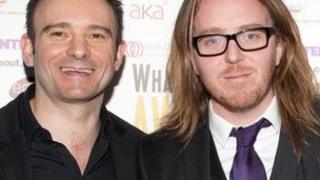 Roald Dahl adaptation Matilda the Musical was the big winner at the audience-voted Whatsonstage.com awards, taking home four prizes.
The RSC production also won best newcomer for its songwriter, comedian Tim Minchin, at Sunday's ceremony.
Director Matthew Warchus said the four children who played the title role were "its trump card and its heart".
National Theatre transfer One Man, Two Guvnors scooped three awards, including best actor in a play for James Corden.
The slapstick hit was also named best new comedy at the 12th annual Whatonstage.com awards show, held at London's Prince of Wales Theatre.
'Reduced to tears'
Matilda the Musical, about a girl with extraordinary powers, is proving to be a big hit with West End audiences.
"Those four Matildas who perform are a real problem for me, because each time I watch the show I'm reduced to tears," said Warchus.
"So while I hope it has a long and healthy run, it's not very good for my emotional stability."
Corden, who accepted his prize at the glitzy ceremony dressed in jeans, joked: "I hosted this a few years ago - it wasn't this posh!
"I share this [award] with every other actor in our show," he went on. "They are all brilliant and there's no such thing as best, but I'm pleased that some of you thought it might have been me."
War Horse, another National Theatre transfer, was named best West End show. One of its full-size horse puppets was brought on stage as a "surprise guest".
The National's musical London Road - about the 2006 murders of prostitutes in Ipswich - won a best ensemble performance prize for its 11-strong cast, who play 52 roles between them.
The National notched up seven awards in total, including a best director win for Danny Boyle for his production of Frankenstein.
The sell-out play, which opened a year ago, saw Benedict Cumberbatch and Jonny Lee Miller alternating in the roles of Frankenstein and the Creature.
Ben Brown's Three Days in May, about political manoeuvring in the early days of World War II, was best new play.
In the musicals categories, Ghost won three prizes including a best actor honour for Richard Fleeshman.
The former Coronation Street star flew in from rehearsing the show on Broadway to pick up his award.
Shrek stars Amanda Holden and Nigel Harman were named best actress and best supporting actor in a musical respectively.
Holden - who has resumed filming Britain's Got Talent after giving birth to her second child - received her award from Simon Cowell in a video clip.
The actress said she had "had a ball" playing Princess Fiona in the West End staging of the 2001 animated film.
"Last year was a bumpy old year, and Shrek literally saved me," said the 41-year-old.
The night's other winners included Vanessa Redgrave, voted best actress for her performance in Driving Miss Daisy.
Redgrave appeared opposite James Earl Jones in the show, which also won the award for best play revival.
The reunion of Doctor Who stars David Tennant and Catherine Tate in Much Ado About Nothing was crowned both theatre event of the year and best Shakespearean production.
"Thank you for making a play written in 1598 the theatre event of the year," said its director Josie Rourke. "I think William Shakespeare would probably be quite pleased."
Tate also won the best supporting actress in a play prize for the National's Season's Greetings. The actress, who is filming in Los Angeles, made her acceptance speech via video.
Both Ghost and Matilda had gone into the awards with nine nominations apiece.
Matilda has scooped several theatrical prizes since it opened in the West End in November, including best musical at the Evening Standard theatre awards.
As well as its best new musical and best newcomer prizes on Sunday, it also took awards for its set design and choreography.
"I've been around for a bit but newcomer implies that I like doing new stuff and that the industry expects me to keep doing stuff in the London theatre world, which I really hope I can do," said Tim Minchin as he accepted his accolade.
One Man, Two Guvnors was the runaway winner for best new comedy, having received 55% of the votes cast.
Richard Bean's 1960s version of Goldoni's The Servant of Two Masters is in its final week at the Adelphi Theatre with the original cast and will shortly move to Broadway.
A new cast will continue in London at the Theatre Royal Haymarket - something Bean referred to in his deadpan acceptance speech.
"I got a phone call this morning from the National," he told the audience. "They said, 'Can you mention the show is going down the road to the Haymarket?'
"They wouldn't do that to Alan Bennett.
"The cheapest ticket is £15," he went on. "Don't buy that one. Unless you like staring at marble close-up, listening to a radio play."
More than 70,000 people took part in the voting process for this year's awards, a rise of 55% on 2011.
The awards show - which concluded with a performance by Queen guitarist Brian May and singer Kerry Ellis - was hosted by comedians Alan Davies and Jenny Eclair and actress Sheridan Smith.
Full list of winners
Best Actress in a Play: Vanessa Redgrave - Driving Miss Daisy
Best Actor in a Play: James Corden - One Man, Two Guvnors
Best Supporting Actress in a Play: Catharine Tate - Season's Greetings
Best Supporting Actor in a Play: Oliver Chris - One Man, Two Guvnors
Best Actress in a Musical: Amanda Holden - Shrek the Musical
Best Actor in a Musical: Richard Fleeshman - Ghost the Musical
Best Supporting Actress in a Musical: Hannah Waddingham - The Wizard of Oz
Best Supporting Actor in a Musical: Nigel Harman - Shrek the Musical
Best Ensemble Performance: London Road
Best Solo Performance: Kerry Ellis - Anthems: The Concert
Best Takeover in a Role: Alfie Boe - Les Miserables
Best New Play: Three Days in May - Ben Brown
Best New Comedy: One Man, Two Guvnors - Richard Bean
Best New Musical: Matilda the Musical
Best Play Revival: Driving Miss Daisy
Best Musical Revival: The Wizard of Oz
Best Shakespearean Production: Much Ado About Nothing (Wyndham's)
Best Director: Danny Boyle - Frankenstein
Best Set Designer: Rob Howell - Ghost the Musical
Best Lighting Designer: Hugh Vanstone - Ghost the Musical
Best Choreographer: Peter Darling - Matilda the Musical
London Newcomer of the Year: Tim Minchin - Matilda the Musical
Best Off-West End Production: The Riots (Tricycle)
Best Regional Production: Sweeney Todd (Chichester Festival Theatre)
Best West End Show: War Horse
Theatre Event of the Year: David Tennant and Catherine Tate reuniting in Much Ado About Nothing