The King's Speech to open in West End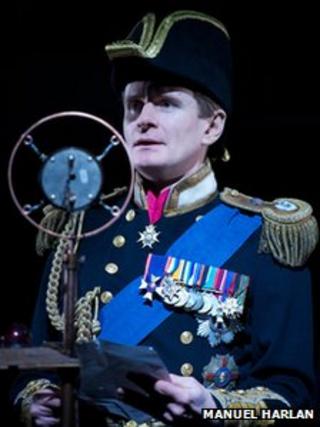 The stage version of The King's Speech is to transfer to the West End in March at the end of its current UK tour.
David Seidler's play, which had its world premiere two weeks ago, begins at Wyndham's Theatre on 22 March.
"With the film relatively fresh in the memory, one might have suspected that interest in the original play would be limited," said actor Charles Edwards, who plays the King George VI.
"But in fact quite the opposite seems to be the case."
The film version of The King's Speech, which starred Colin Firth, won four Oscars last year but Seidler originally wrote the story - about the king and his debilitating stammer - for the stage.
He then developed the screenplay, and the play was left unproduced until this month.
Its opening night, at the Yvonne Arnaud theatre in Guildford on 10 February, went down well with the critics.
"It is a cracking good story and Seidler deserves credit for seeing its dramatic potential," said Michael Billington in his four-star Guardian review.
"Edwards, who has been edging towards stardom for several seasons, has now unequivocally arrived."
"The critical reaction has been terrific," Edwards said. "Particularly gratifying for me has been the reaction from stammerers."
He said he was often asked if he felt in the shadow of Colin Firth's portrayal of Bertie.
"One approaches Bertie as you would any other role, in that that you try and make it your own. Shakespeare characters have been played many times before - that's no reason to not have a go yourself. I'm not daunted in any way."
Edwards is joined in the cast by Jonathan Hyde as maverick Australian speech therapist Lionel Logue, and Emma Fielding as Queen Elizabeth.
Joss Ackland plays King George V and Ian McNeice is Winston Churchill. The play is directed by former RSC artistic director Adrian Noble.
The production is on tour around the UK until 17 March.
Seidler began researching his storyline for The King's Speech throughout the 1970s and 80s but abandoned it after the Queen Mother asked him not to pursue the project during her lifetime.
After the Queen Mother died in 2002, Seidler returned to writing the play. It was in 2005, at a script reading in London, that film director Tom Hooper's mother spotted its movie potential and told him she'd found his next project.
The film was an international hit, making $414m (£261m) at the global box office.