Blue Peter garden to open to members of the public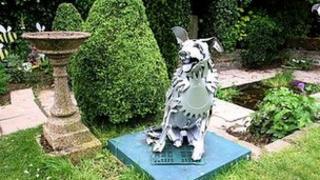 The Blue Peter garden is to be opened up to members of the public for the first time at the BBC's new base in Salford, it has been announced.
The famous garden, which is currently being planted in a landscaped area outside Dock House, will be officially opened by Princess Anne on 23 February.
The new garden will be landscaped by Blue Peter gardener Chris Collins.
It will feature a bust of Petra, the children's show's first ever dog and an ornamental fishpond.
The hand, foot and paw prints of the presenters and animals who appeared on the show in 1978, when the garden was originally created, will also be incorporated.
A statue of Mabel - another of the show's longest-serving pet dogs - will be moved to the reception area along with a sculpture of the Blue Peter ship logo.
Blue Peter editor Tim Levell said: "We're really excited about being able to open up the garden so Blue Peter viewers can come along and visit it - we wanted to make it as accessible to the public as possible."
When the garden was situated at BBC Television Centre in London, members of the public could only gain access during a special tour of the studios.
It had previously been reported that the new location would also be off-limits, on the roof of Blue Peter's new studio.
A mainstay of the children's magazine show, the original garden was designed by Percy Thrower behind the staff canteen in Television Centre.
In 1983 the garden was targeted by vandals, who stamped on plants, poured oil into the pond and smashed the stonework.
Last June, Blue Peter broadcast its final show from London, before it moved to Salford, along with BBC Sport, TV's Breakfast programme and Radio 5 live.
It is the longest-running children's programme in the world, after first being broadcast in October 1958.