Oscars 2012: John Logan talks Hugo, Rango and 007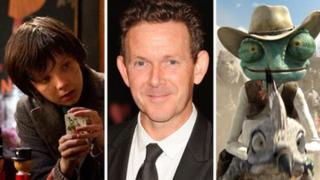 Screenwriter John Logan discusses Oscar hopefuls Hugo and Rango, and admits his new stage play is more secret than
his James Bond script.
"I have yet to do an interview from the past year that doesn't mention Skyfall," laughs John Logan down the line from Los Angeles.
It's true. There is a question prepared about his work on the latest 007 adventure - currently shooting with Sam Mendes at the helm.
But more on that later.
With a CV that includes Gladiator, Coriolanus and Sweeney Todd: The Demon Barber of Fleet Street, Logan is one the most sought-after screenwriters in Hollywood.
At this year's Oscars he's up for best adapted screenplay for Martin Scorsese's 3D film Hugo, while the Logan-scripted Rango is the front-runner for best animation.
It is Logan's third nomination, with nods for sword and sandals epic Gladiator in 2001 and Howard Hughes biopic The Aviator in 2005.
"Any time you get invited to the big dance, it's thrilling," says Logan. "It sounds like the most hackneyed thing to say for a writer, but at the end of the day there's something about the recognition from the people who do your job."
Three days before the Academy Awards on 26 February, Logan is being honoured at the Oscar Wilde awards, an annual event in LA which celebrates the Irish in film.
"I'm a first generation American, but the rest of the Logan clan stretch back to all those Belfast shipbuilders," he explains.
Logan's adaptation of Hugo came about five years ago.
Scorsese, with whom he worked on The Aviator, sent him Brian Selznick's best-selling book about a boy living within a Paris railway station.
"The thing that emerged for me was the orphan story," says Logan.
"I grew up reading Dickens and there's something about the character of Hugo that resonates so deeply with Little Dorrit and Little Nell and Oliver Twist and all those wayward damaged orphans from Dickens. So that was my way into it."
The decision to shoot in 3D came three years later, so Logan looked for ways to build that into the screenplay.
"The essential narrative stayed the same, but I looked for ways to move kinaesthetically though the space: Hugo going through tunnels, the sequence of going inside the automaton to see it work, inside a movie camera and even things like the Doberman."
It's "total kismet", says Logan, that Hugo and The Artist - the most-nominated Oscar films this year - both celebrate the early days of cinema.
"I love it that the two films reflect each other, but anyone who tells you there's any rhyme or reason to it knows nothing about how movies are made.
"Movies reach critical mass at different times and it's absolute happenstance that these two came out in the same year."
Rango, meanwhile, is a homage to classic Westerns, and features Johnny Depp as the voice of its quirky chameleon hero.
"When Gore Verbinski pitched this story about a Western with a lizard I immediately started laughing," says Logan, whose script references the likes of High Noon, Clint Eastwood character the Man With No Name and Blazing Saddles.
The result is a film that does not fit neatly into the family-friendly genre, and features a range of talking animals that are far from cute. One is a bird with an arrow lodged in his eye socket.
"We were guys coming from outside the world of animation," says Logan. "Whenever there was a choice, we took the idiosyncratic path."
It was during the recording sessions for Rango that Logan asked actor Alfred Molina (voicing an armadillo) to play the role of artist Mark Rothko in his play RED.
Opening at London's Donmar Warehouse in 2009 and later on Broadway, RED went on to win six Tony awards.
How much does Logan's stage writing (he has more than a dozen plays to his credit) come through in his film work?
"I wake up in the morning a playwright who fell into screenwriting," he says. "I cherish my theatre life and wouldn't feel complete if I didn't have it."
He adds: "The essential dramatic lessons in Aeschylus, Aristotle, Shakespeare, Ibsen and Chekhov are the bedrock of a career as a screenwriter."
It's this love of the great dramatists that led to Logan's screenplay for the first ever big-screen adaptation of Shakespeare's Coriolanus.
"I didn't think anyone would be mad enough to want to make a movie of Coriolanus, until Ralph Fiennes came along - every bit as mad as myself - and we just did it."
And so to Skyfall - the new Bond film with Daniel Craig back as 007, and Fiennes and Javier Bardem in the cast. The film is currently in production, and Logan is still hands on.
"There's always tweaking to be done," he says, giving nothing away.
"I've been with Skyfall for over a year now. It's been the most fun experience I've ever had on a movie. It's like being part of a theatre company.
"I grew up on Bond and working with Sam [Mendes] is a dream because we're both theatre animals. We both speak the same language about story and character."
Logan reveals he has just finished writing a new play and is currently writing a screen adaptation of the Jersey Boys musical.
What's the play about? "The only thing more secret than Bond is my stage work," he teases. "All I can say is it will be in London this time next year."
Meanwhile, Logan's busy writing schedule will have to go on hold next week, as he has a couple of important appointments in his diary.
The Oscar Wilde awards are in Santa Monica on 23 February. The Academy Awards take place in Hollywood on 26 February.