Daldry's Extremely Loud gives child's view of 9/11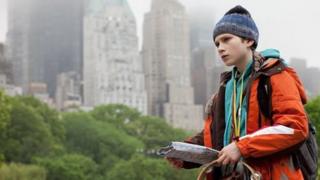 The image of New York's twin towers streaming with plumes of smoke on 11 September, 2001 is one of the defining images of the century - but how does it change when viewed through the eyes of a child?
Billy Elliot director Stephen Daldry explores this theme in his movie adaptation of the novel Extremely Loud and Incredibly Close, the story of an unusual 11-year-old New Yorker, Oskar Schell.
After his father dies in the World Trade Center on what Oskar calls "the worst day", he is determined to keep his connection with his dad. He discovers a key inside his father's belongings, and sets off on a quest across the city to find the lock it opens.
Tom Hanks - a man Daldry says "everyone wants as a dad" - plays Oskar's father, Sandra Bullock his mother, along with newcomer Thomas Horn as Oskar. The supporting cast includes Jeffrey Wright, Viola Davis and Max Von Sydow, a veteran of more than 60 films.
The original novel, published in 2005 by Jonathan Safran Foer, was the first major literary exploration into the grief of 9/11 families and Daldry's movie does the same through the medium of film.
Although the film focuses on one family, there are reconstructions of people falling from the Towers, as well as phone messages left by Oskar's father as he is trapped inside the building.
"I think it's time for many more of these stories to be told," says Daldry. "All across New York and beyond, there are hundreds of them, all of them unique. Some people are now ready to tell them.
"I'm honoured to be one of the first to be exploring the consequences of this event, but that wasn't why I signed up though - it's much more than a 9/11 film.
"I found it truly compelling that the story was told not only from the viewpoint of a boy suffering unimaginable heartbreak, but also from the point of view of a boy who has a singular view of the world. Oskar is highly intelligent, but his behaviour puts him in the autistic spectrum."
The director also wanted to learn more about the trauma experienced by some 3000 children who lost parents on 9/11, and consulted with therapists and charities.
"I learned that for many kids, the surprise and the public nature of the event added a sense of helplessness to their grief. I wanted to understand the process that children like Oskar went through after 9/11, how they began to heal - or sometimes not. It went hand-in-hand with script development."
To better understand her character, Bullock explains that she listened to recordings of phone calls and voice mails left by those trapped in the World Trade Center for their families.
"That was very hard for me. But what floored me was to hear people giving comfort to those they were leaving behind. You really understand that the pain of hearing that is something that will never go away."
The task of finding Oskar himself, upon whose shoulders the entire film rests, was a quest in itself, as the film-makers wanted to hire an unknown child actor, who shared the character's uncommon intelligence.
"We couldn't find anyone at all," says Daldry, "until one of the team spotted this 13-year-old boy called Thomas Horn taking part in the kids version of the TV game show Jeopardy."
"The producers sent a request for me to make an audition tape," says Horn. "My parents and I had a discussion about whether to take part. Eventually we concluded it was too big an opportunity to miss."
In some ways, the teenager mirrors Oskar's unusual traits. He can speak four languages - including Croatian, Spanish and Mandarin.
But he had no acting experience beyond taking the part of the grasshopper in his school's version of James and the Giant Peach. He had to learn on set, how to deliver and repeat his lines.
Horn says that prior to filming, he had "no memory" and "little knowledge" of 9/11, and Daldry feels that American children aren't being taught its importance in their history.
"It isn't yet taught as part of the school curriculum in America, and I find that extraordinary. It is a defining moment of modern American history and the event and its consequences need to be studied.
"I want to see more films about 9/11, and the aftermath - including the war in Afghanistan."
Daldry has a 100% Oscars strike rate for his movies being nominated for either best picture or director or both to which he says: "I have no idea how it keeps happening. It's just down to luck."
Extremely Loud and Incredibly Close is also in the running for best picture at this year's Academy Awards.
In spite of the nomination and the subject matter, so far the film has failed to resonate with critics - with opinions ranging from too "cloying" and "sentimental" to "more exploitative than cathartic".
Rolling Stone called it "self-important in the way that Oscar loves" and the Scotsman describes it as "incredibly tiresome".
Despite this, Daldry still says he is proud to make a movie which explores profound grief, "and at the end comes out with a message of hope. Oskar feels there has to be an answer to his quest, but there isn't always a clear 'why' in a situation, particularly not in an event like this one. And sometimes the answer you end up getting isn't the one you expect".
Extremely Loud and Incredibly Close is released in the UK on 17 February.