Tintin in the Congo not racist, court rules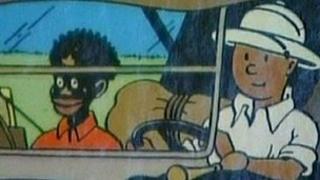 A Belgian court has rejected an application to ban a controversial Tintin book over claims it breaches racism laws.
It said it did not believe the 1946 edition of Tintin in the Congo was intended to incite racial hatred.
Congolese campaigner Bienvenu Mbutu Mondondo launched legal proceedings in 2007 to get the book banned, saying its portrayal of Africans was racist.
Mr Mbutu's lawyer said he planned to appeal against the decision.
Written in the late 1920s, Tintin in the Congo was the second book Herge - real name Georges Remi - produced featuring his young reporter hero.
It was first serialised from 1930 to 31 and was then reissued in 1946.
The book tells of Tintin's escapades in the former Belgian colony and includes encounters with diamond smugglers, big game hunters and wild animals.
Tintin in the Congo has always attracted criticism, and Herge said later that he was not happy with the work.
The Belgian court said it was created at a time when colonial ideas were prevalent.
"It is clear that neither the story, nor the fact that it has been put on sale, has a goal to... create an intimidating, hostile, degrading or humiliating environment," the court said in its judgment.
Mr Mbutu's lawyer told Reuters his client would "take this case as far as he can".
UK editions of the book, published in English in 1991, are generally found beside more adult literature and inform readers the content could cause offence.