Love story The Vow tops US box office chart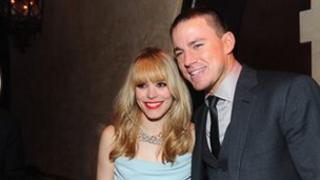 Romantic drama The Vow, starring Rachel McAdams and Channing Tatum, has topped the US box office chart ahead of Valentine's Day.
Estimates show the film took $41.7m (£26.4m) over the weekend.
Denzel Washington action thriller Safe House was close behind with $39.3m (£24.8m).
Family sequel Journey 2: The Mysterious Island landed in third position, taking $27.6m (£17.4m) in a strong weekend for the box office.
George Lucas's 3D reissue of Star Wars: Episode 1 - The Phantom Menace entered the chart at number four, taking $23m (£14.5m).
This was the first non-holiday weekend that four films opened with more than $20m each, said Paul Dergarabedian of box office analysts Hollywood.com.
The only other time when four new releases did that well was over Christmas weekend in 2008, he added.
"It felt like a summer weekend to me," said Dergarabedian. "This was like a great big valentine from Hollywood to the audience, or from the audience to Hollywood."
While The Phantom Menace performed well, it could not beat the 3D release of The Lion King which made $30.2m on its debut in September.
Release dates for 3D versions of the five remaining Star Wars movies have yet to be announced, though the initial plan is to put out one a year.
More than 70% of the audience for The Vow - about a man and wife whose relationship is rocked after she loses her memory - was made up of women.