Brendan Gleeson's The Guard wins Guardian award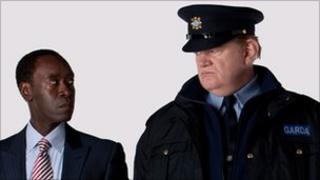 The Guard, a dark Irish comedy starring Brendan Gleeson as an unorthodox Galway policeman, has been named the winner of the Guardian's annual First Film award.
John Michael McDonagh's debut film received the honour ahead of Submarine, Tyrannosaur and seven other contenders.
McDonagh, who also wrote the film, said he was "surprised and very pleased" to be recognised by the broadsheet.
The older brother of playwright Martin is up for a Bafta award on Sunday in the original screenplay category.
Other films to have been considered for the Guardian accolade included The Inbetweeners Movie, Attack the Block, Sleeping Beauty and Snowtown.
The paper has also bestowed its annual First Album award, given this year to Glass Swords by electronic musician Rustie.
Now in their fourth year, the awards - decided by Guardian writers - "aim to throw a spotlight on emerging talent that may not have received the recognition it deserves".