Rachel Whiteread to create frieze for London gallery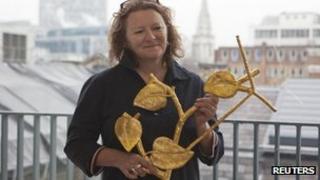 British artist Rachel Whiteread has been commissioned to create a new work to adorn the historic facade of the Whitechapel Gallery in east London.
Her frieze, intended to celebrate "the life-affirming power of art", will feature gilded leaves and branches.
It will draw inspiration from the Tree of Life motif that is already part of the Grade II listed building.
The Turner Prize-winner said she hoped her piece would have "a positive and lasting impact for the area".
Whiteread's previous works include the inverted plinth sculpture she made for London's Trafalgar Square and her mammoth installation of 14,000 white boxes in Tate Modern's Turbine Hall.
The internationally acclaimed artist has lived near the Whitechapel Gallery in east London for the past 25 years.
Iwona Blazwick, director of the Whitechapel Gallery, said it was "wonderful that Rachel's work will become part of the fabric of the building for future generations to enjoy".
"Her minimalist aesthetic and use of existing architectural forms as the departure point for her sculpture are the perfect fit for this commission."
Independent charity The Art Fund has contributed £200,000 to the project, which will be unveiled in June as part of the London 2012 Festival.
The frieze - to be located above the gallery's main entrance - will be Whiteread's first permanent public commission in the UK.