Naomi Watts lands Princess Diana role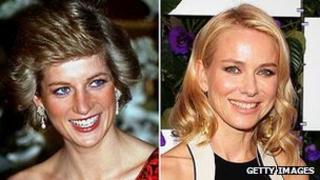 British-born actress Naomi Watts is to portray Princess Diana in a new film believed to explore her relationship with the heart surgeon Hasnat Khan.
The pair had a discreet romantic affair that began in 1995 and ended a few months before her death in August 1997.
Directed by Oliver Hirschbiegel, Caught in Flight is described as "a compelling portrait of Diana, Princess of Wales during the last two years of her life".
Watts, 43, said it was "such an honour to be able to play this iconic role".
"Princess Diana was loved across the world, and I look forward to rising to the challenge of playing her on screen," she continued.
Hirschbiegel, who previously dramatised Hitler's final days in 2004 film Downfall, described Watts as "a truly exceptional actress who embodies the warmth, humanity and empathy of such a global icon".
Earlier reports had linked US actress Jessica Chastain to her part in the film, to be based on a screenplay by British playwright Stephen Jeffreys.
Watts, whose films include the remakes of King Kong, The Ring and Funny Games, received an Oscar nomination for her work in 21 Grams and was recently seen alongside Leonardo DiCaprio in J Edgar.
Produced by Ecosse Films, whose previous features include John Lennon biopic Nowhere Boy, the movie will begin shooting in the UK later this year.