British Library appoints artist-in-residence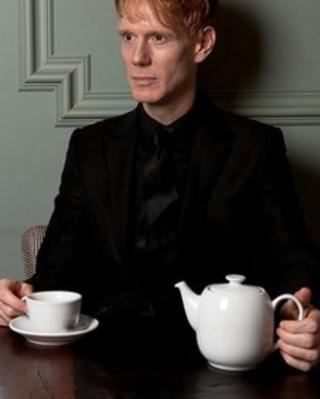 The British Library has appointed its first artist-in-residence - a performer who will create a new character based on his research into hypnotism.
Actor, writer, cabaret artist and hypnotherapist Christopher Green will delve into library arts and medical collections as well as other material.
In October, he will reveal a character to "confound, amaze, heal and entertain" in a show at the library.
The institution wants to encourage artists to be inspired by its material.
As part of the residency, funded by research and education supporter The Leverhulme Trust, Green will also present "show-and-tell" demonstrations of his research in May and September.
The performer - whose comic creations include Radio 4 star and country music singer Tina C - said he would search through library collections, "plundering and plucking shiny objects that grab my attention".
"The British Library is a vibrant, exciting place to be - always packed with interesting people doing interesting things, banging away excitedly at their laptops.
"I'm going to be slowing them down, putting them under and freeing them from everyday constraints."
He said he had begun his research with the playbills - acquired by the library in 1895 - of Victorian conjuror and ventriloquist Evanion.
The library's curator of modern literary theatrical manuscripts, Zoe Wilcox, said Green was "exploring a subject which fascinates us today as much as it did the Victorians".
"We are looking forward to seeing what Christopher uncovers from across our collections and learning more about the tricks and techniques of the early hypnotists," she added.