Nickelback, Drake and Feist lead Juno Award nominations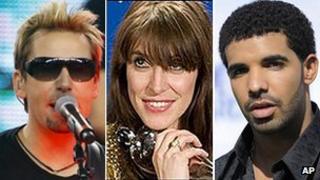 Nickelback, Drake and Feist are among the artists who have been nominated for more than one prize at Canada's Juno music awards.
Rapper Drake and Feist will go head-to-head for the artist of the year prize and Nickelback have been shortlisted in the best band category.
City & Colour, Dan Mangan and Justin Bieber have also received multiple nominations.
William Shatner will host the annual awards ceremony in Ottawa on 1 April.
The Canadian Academy of Recording Arts and Sciences, which administers the honours, announced the 41 categories on Tuesday.
The remaining artist of the year nominees are City and Colour, dance artist Deadmau5 and crooner Michael Buble, while group of the year includes Arkells, Down with Webster, Hedley and Sam Roberts Band.
Nickelback's track When We Stand Together was nominated for best single and the band will compete in the fan choice category.
Drake too has also been nominated for the prize, along with Arcade Fire, Avril Lavigne, City And Colour, Deadmau5, Ginette Reno, Hedley, Bieber and Michael Buble.
Drake, who hosted last year's awards ceremony, picked up a nod in the rap recording of the year category for Take Care.
The record is also in the running for best album, alongside Bieber in the album of the year category, which also includes Lavigne's Goodbye Lullabye, Nickelback's Here and Now and Buble's Christmas.
The rock band Blue Rodeo will be inducted into the Canadian Music Hall of Fame.