Making movie music for the Muppets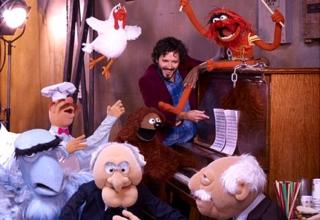 Bret McKenzie, star of cult TV comedy Flight of the Conchords, has landed an Oscar nomination for his songs in The Muppets' new film. He talks to the BBC about composing for a chorus of Kermits.
How do you write a song for a Muppet?
That's the question Bret McKenzie found himself asking last year, after he was hired to write the songs for Disney's new Muppets movie.
As it turns out, there are a couple of rules.
"Jim Henson said if the music's too good, it's not right," he explains, "so I took that to heart and kept the songs slightly shambolic.
"Then Miss Piggy can't sing very high or very low, otherwise she loses the sound of Miss Piggy.
"And there couldn't be any dirty gags," he adds.
"I was shut down on a 'motherfrogger' joke early on."
In fact, McKenzie says his lyrics were constantly debated, rejected and changed in the studio, with the muppeteers refusing to let Kermit and Miss Piggy sing anything that didn't feel right.
"I had one gag where a Muppet was reminiscing, 'I remember when I was a piece of felt' and that got taken out, because the Muppets are real.
"It was a bit of a stress," he recalls. "They were pretty much 'method Muppets' in the studio"
All the hard work has paid off, however. Man Or Muppet, the film's pivotal song, is up for an Oscar, one of only two nominees in its category.
"I feel very pleased for him because he's a very modest man," says the film's director James Bobin. "For him to have the potential of having an Oscar in his house is just unbelievable."
It was Bobin who initially persuaded McKenzie to submit a demo for the movie.
The pair had worked together on the cult HBO series Flight Of The Conchords, about two struggling musicians trying to make a living in New York.
Starring McKenzie and fellow New Zealander Jemaine Clement, the show earned 10 Emmy nominations for its mixture of awkward comedy and musical parodies - which lampooned the likes of Prince (The Most Beautiful Girl In The Room), the Black Eyed Peas (Sugar Lumps) and David Bowie (Bowie's In Space).
Apart from the musical interludes, The Conchords shared one important characteristic with the Muppets - they were never quite as good as they thought.
In one episode, the Kiwi band were reduced to playing a gig in an elevator, their dreams of success every bit as hopeless as those of their fuzzy counterparts.
But, despite the parallels, McKenzie was never guaranteed the job of Muppets maestro.
"Disney weren't sure what sort of movie they were going to make at first," he says. "It could have been Hannah Montana Meets The Muppets."
Instead, the new film maintains the anarchic energy of the troupe's 1970s TV show. Co-written by Forgetting Sarah Marshall's Jason Segel (who also stars), it finds the old gang disbanded and down on their luck.
But when superfans Gary (Segel) and his Muppet brother Walter discover the Muppets' studio is about to be torn down by a greedy developer, they track down Kermit and persuade him to put on one last show.
Smart, funny and affectionate, the film was a box office hit when it was released in the US last year, making $87m (£55m).
Skype session
McKenzie is not the only composer on the soundtrack, which also features a new version of Paul Williams' classic Rainbow Connection from 1979's The Muppet Movie, but it is his work that has been singled out for praise.
Opening track Life's A Happy Song is an uptempo song-and-dance number, which ends with a cast of hundreds, including Mickey Rooney, singing lines like "life's a fillet of fish".
Buoyantly daft, it won the 2012 Critics' Choice Award for best song from a motion picture.
In stark contrast, Let's Talk About Me is a rap performed by Bourne Identity star Chris Cooper in his guise as evil business tycoon Tex Richman.
Having written the song, McKenzie found himself in the surreal position of "teaching an Academy Award-winning dramatic actor how to rap on Skype".
"He's a very serious man, and it was an awesomely awkward rap session," he laughs.
"But later, on the set, he was apparently reading a book on how to rap. I don't know who wrote that. Did Snoop write that? Or maybe Jay-Z's written a book: 'The Dummy's Guide To Rapping?' It's hilarious."
Like many of the film's musical numbers, McKenzie says, Let's Talk About Me was cut short "to keep the film moving".
It meant the loss of one of his favourite lines: "I've got so much gold I gold-plate my gold" but he maintains he is happy with how the music integrates with the action.
"If you get that moment right where you go from the scene into the song, then the song works better. That transition is so crucial," he says.
"With James Bobin, we've done about 40, maybe 50, music videos now. He's gotten pretty good at making that work - often with a lighting change or just looking into the camera."
Recognition from the Academy is the icing on the cake - "I'm really proud of it" - and it doesn't hurt that there's only one other song on the shortlist.
"The chances of winning could not be any better," he notes, "unless they only had one nominee. But I guess that would make the awards ceremony very predictable."
Post-awards, McKenzie will be seen in Peter Jackson's The Hobbit and British film Austenland, which he describes as a "faux-period romcom".
After that, there are hopes for a Flight Of The Conchords movie.
"It's all very conceptual at the moment," he says. "We haven't made any definite plans, but it's something we all want to do, so it's just a matter of time.
"Until recently, Jemaine's been filming Men In Black 3, so it's been a kind of funny year.
"He's been working with aliens, and I've been working with frogs and pigs."
The Muppets comes to UK cinemas on Friday, 10 February.