Tom Cruise film producers sued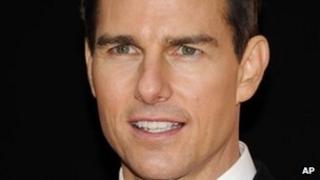 Two producers working on Tom Cruise's forthcoming movie One Shot are being sued by a former colleague, says trade newspaper the Hollywood Reporter.
Kevin Messick has accused Don Granger and Gary Levinsohn of breach of contract, after they "began excluding" him from meetings about the film.
Mr Messick launched legal proceedings at the Los Angeles Superior Court on Friday, asking for compensation.
Mr Levinsohn and Mr Granger have declined to comment.
Mr Messick is asking for unspecified damages, his producer's fees and the right to participate in any upcoming sequels.
According to court documents, he became involved in the project, which is based on a best-selling novel, in 2005.
He said he helped to develop the film, renew Paramount's options for the rights to the book, and participated in the search for a screenwriter.
But, "beginning in July 2010, Granger and Levinsohn began excluding Messick from meetings with the screenwriter and the studio and withheld certain drafts of the screenplay for the picture," the complaint claims.
"If defendants had honoured the Joint Venture Agreement, Messick is informed and believes and therein alleges that Paramount Pictures would have hired Messick to be a producer of the Picture as well as any sequels, remakes, or derivative works based on the picture," it continues.
Cruise has signed up to play Jack Reacher, the army-major-turned drifter who stars in a series of thrillers by the British author Lee Child.