Madonna announces next world tour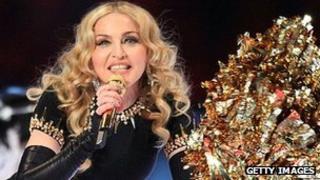 Madonna has announced the dates for her latest world tour, which will start in Israel in May.
The 53-year-old will play two dates in the UK, while the tour will also visit South America and Australia, where she has not performed in 20 years.
The announcement comes days after the Like A Prayer singer performed during half time at the US Super Bowl.
A record 111.3 million people tuned in for the game. Madonna's 12 minute performance received mixed reviews.
According to Nielsen, the company that tracks TV viewing figures, the football game was the most watched show in US history.
Rude gesture
However, TV network NBC and the National Football League (NFL) apologised on behalf of rapper M.I.A, who appeared as a featured artist during Madonna's set.
The British hip hop musician raised her middle finger whilst facing the camera during the performance. The picture was temporarily scrambled, but it came too late to avoid the gesture being shown.
NFL spokesman Brian McCarthy said there had been a "failure in NBC's delay system".
He added: "The gesture in the performance was completely inappropriate, very disappointing, and we apologise to our fans."
NBC spokesman Christopher McCloskey blamed NFL, saying the organisation "hired the talent and produced the halftime show".
He added: "Our system was late to obscure the inappropriate gesture and we apologise to our viewers."
Some news outlets in the US have reported that M.I.A. will have to personally pay any fines imposed on NBC as a result of her gesture.
High earner
Fifty dates have been announced so far for Madonna's tour, which will start on 29 May and visit 26 European cities including Paris, Milan, Barcelona, Amsterdam, Dublin and Berlin.
She will also perform in Canada and the US in August, September and October.
Speaking on Graham Norton's BBC One show last month, the singer said she was planning an extensive tour "because I have to pay the rent".
Her last global outing, with the Sticky And Sweet tour, made $408m (£250m) over two years.
With dates in 32 countries, it broke the record for the highest grossing tour ever by a solo artist, which had previously been held by the singer's 2006 Confessions tour.
"I do enjoy it, truthfully," she told Norton. "I enjoy putting the show together. I enjoy the first two weeks, and I enjoy the last two weeks.
"It's hard work but, for me, it's the most rewarding of all my jobs.
"To be able to stand on the stage and feel that very visceral connection with human beings, and that thing that only music can do with other humans - there's nothing like it."
Madonna has become known for expensive, elaborate stage shows featuring acrobats, skateboarders, bagpipe players and multiple sets.
The Sticky And Sweet tour even incorporated a Ukrainian gypsy group, the Kolpakov Trio, who accompanied the pop star on her hit single La Isla Bonita.
As a result, ticket prices can be relatively high.
The most expensive tickets for the star's 2012 world tour will be £125, although there will be £40 tickets available for the gig at Edinburgh's Murrayfield Stadium on 21 July.
Passes for the concert at London's Hyde Park on 17 July have a starting price of £70.
Tickets go on sale this Friday, 10 February, at 10:00 am.