Ai Weiwei to create underground design for Serpentine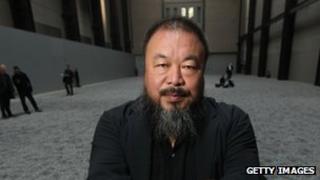 Beijing Olympics designers Herzog & de Meuron and Ai Weiwei have been commissioned to create this year's Serpentine Gallery pavilion.
The trio will create 11 columns beneath the gallery's lawn in west London, each protruding from the foundation of a previous pavilion design.
The work will also feature a water-hole and a twelfth column to represent the new design.
The twelfth commission in the annual series will open in June.
Herzog & de Meuron and Ai Weiwei designed the Bejing national stadium, nicknamed the "Bird's Nest", which was built for the 2008 Olympic Games.
The twelfth column will support a floating platform roof 1.5m above the ground.
"It floats some five feet above the grass of the park, so that everyone visiting can see the water on it," the design trio said in a statement.
"For special events, the water can be drained off the roof as from a bathtub, from whence it flows back into the waterhole... the dry roof can then be used as a dancefloor or simply as a platform suspended above the park."
The commission will be presented as part of the London 2012 Festival, the culmination of the Cultural Olympiad.
Ai Weiwei is a Chinese conceptual artist who is also a well-known human rights campaigner.
Ai was arrested in China in April 2011 and detained for 81 days. Authorities said the dissident artist was detained on charges of tax fraud, but his family have always insisted it was for his political activities.
He was released in June but was then charged with tax evasion after breaking a gag order, by continuing to use Twitter and speaking to international media. .
Last month, authorities in China agreed to Ai Weiwei's request to review a $2.4m (£1.55m) fine imposed by the tax bureau for ''back taxes''.
Swiss architects Herzog & de Meuron have been working together since the 1970s.
Perhaps the firm's best-known UK project is the conversion of the Bankside power plant to create Tate Modern in London in 2000.
They were commissioned by the Tate again in 2005 to develop the completion of the gallery and its surrounding areas - due to be completed by 2016.
It was originally due to be finished in time for London 2012 but lack of funding delayed its completion.