Titanic cameraman dies in helicopter crash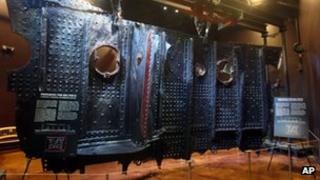 Award-winning underwater cameraman Mike deGruy, who worked with Titanic director James Cameron, has died in a helicopter crash in Australia.
His employer, National Geographic, confirmed the 60-year-old had died alongside Australian TV writer and producer Andrew Wight on Saturday.
Their helicopter crashed soon after take-off from an airstrip near Nowra in New South Wales, police said.
"Mike and Andrew were like family to me," Cameron said.
"They were my deep-sea brothers and both were true explorers who did extraordinary things and went places no human being has been," he added in a joint statement with National Geographic.
DeGruy was the director for undersea photography for Cameron's 2005 documentary, Last Mysteries of the Titanic.
Based in California, he had qualified as a marine biologist before turning his hand to film-making, and went on to win multiple Emmy and Bafta awards for cinematography.
Wight, 52, was the writer and producer of the 3D film Sanctum, which was Australia's biggest box office hit of 2010.
David Bennett, president of Australia's south coast recreational flying club, said the pair had set off to film a documentary when the helicopter crashed.