Children lack ability for Dickens, says biographer Tomalin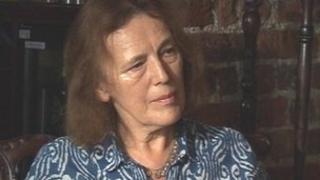 Leading Charles Dickens biographer Claire Tomalin has said children are not being taught to read with the attention span necessary to appreciate the novelist's works.
Tomalin said Dickens's depiction of an unequal society was still "amazingly relevant", ahead of nationwide celebrations to mark the 200th anniversary of his birth.
Children were now unable to appreciate this due to "being reared on dreadful television programmes", she said in an interview with the Press Association.
"Children are not being educated to have prolonged attention spans and you have to be prepared to read steadily for a Dickens novel and I think that's a pity."
On Tuesday, events will take place around the UK to celebrate Dickens's bi-centenary.
They include a street party in Portsmouth, Hampshire, where the novelist was born.
There will be a wreath-laying ceremony at his grave in Poets' Corner in Westminster Abbey, London, attended by the Prince of Wales and the Duchess of Cornwall and celebrities including Ralph Fiennes.
A Global Dickens Read-a-thon will also take place in 24 countries from Albania to Zimbabwe, beginning in Australia with a reading from Dombey and Son.
Tomalin, who will also attend the Westminster Abbey event, said Dickens was "after Shakespeare, the greatest creator of characters in English.
"He has gone on entertaining people since the 1830s and his characters' names are known all over the world.
"And because of the way he wrote, he adapts very well for theatre and even people who do not read him know about him from films, the TV and musicals.
"You only have to look around our society and everything he wrote about in the 1840s is still relevant - the great gulf between the rich and poor, corrupt financiers, corrupt MPs, how the country is run by old Etonians, you name it, he said it."
Tomalin added that the character in modern culture most like one created by Dickens was Basil Fawlty.
"The whole two series of Fawlty Towers stand up, they are so funny and Basil Fawlty, he is a Dickensian monster."
Tomalin's Charles Dickens: A Life has been widely acclaimed by literary critics and was shortlisted for 2011's Costa Book Awards biography prize.
She has also chronicled the lives of Samuel Pepys, Jane Austen and Thomas Hardy.