Children's laureate Julia Donaldson pens protest poem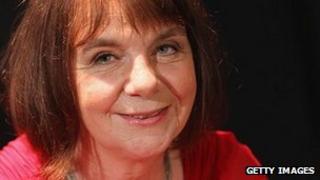 Gruffalo author Julia Donaldson has written a poem protesting against planned library closures across the UK.
The children's laureate's 22-line rhyming couplet includes lines like "Read that book, and if you're bitten, you can borrow all the other ones the author's written".
Donaldson, 62, said she wanted to make a serious point in a fun way.
Campaigners say hundreds of libraries face closure due to funding cuts, with some local groups taking legal action.
The author's poem, released to mark National Libraries Day, describes them as places to "meet your heroes, old and new, from William the Conqueror to Winnie the Pooh".
She finishes by saying: "Yes, come to the library! Browse and borrow, and help make sure it'll still be here tomorrow."
Donaldson said it was more interesting to write a poem about her love of libraries than write "an earnest article" about it.
"If we lose libraries, we would lose readers and we would become a less literate country," she said.
"People are kidding themselves if they think adults will download books to their Kindles if they haven't got the reading bug as children," she added.
A year ago, the Chartered Institute of Library and Information Professionals predicted that 600 libraries could be shut across the UK due to local council funding cuts.
A number of successful campaigns in counties like Somerset and Gloucestershire have prevented some libraries from being closed.
However, others have failed including a court attempt to save six libraries in Brent, north-west London.