'Viewers want clearer TV credits'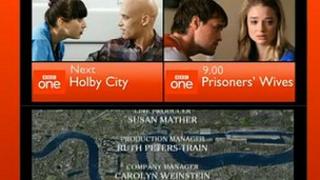 Actors should be given clearer and more prominent TV credits, according to a survey carried out by an acting union.
Equity said it commissioned a survey, following complaints from viewers about fast-rolling and shrunken credits.
More than 10,000 people responded, with 88% saying they were "annoyed" when squeezed credits were hard to read.
Equity's Christine Payne said unreadable TV credits at the end of a programme showed a "lack of respect" to the actors.
Popular dramas including Sherlock, Poirot, Great Expectations, Boardwalk Empire and Downton Abbey were among the programmes that participants singled out for sometimes displaying illegible credits.
The results also suggested that more than half of the people who participated in the poll, would like to see credits available online as well as on TV.
"While the viewers who took part in this survey may be a tiny fraction of the millions of UK citizens who watch TV every day, there is very little comfort for broadcasters in their responses," Ms Payne said.
The BBC's media correspondent Torin Douglas said: "This isn't a statistically representative survey, but it shows that people who are most interested in TV programmes feel strongly about this issue."
Equity have campaigned since 2004 to give more prominence to actors and their TV credits, but broadcasters are yet to introduce any changes.
The union said it planned to write to all the major channels again, in a bid to get them to implement changes.
A BBC statement said: "We're always mindful of how and when we squeeze credits, and will only do so if we believe there is a benefit to the audience.
"Our research shows that viewers respond well to this method of informing our audiences about our programmes when navigating between channels."
An ITV spokesman said it designs its "standard credits to ensure that they are legible for viewers".
"We very rarely receive complaints that they are unreadable or scrolled too quickly," he said.