Hugh Grant 'still on board' for Bridget Jones film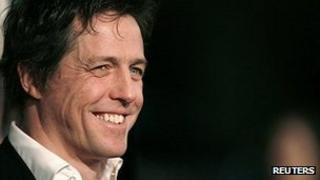 British actor Hugh Grant will return to star in the third Bridget Jones film, despite recent reports suggesting he had dropped out.
Working Title chairman Tim Bevan said: "Reports that Hugh Grant has exited Bridget Jones's Baby are untrue."
He admitted though that work on the script had delayed production.
"We are still working on the script, hence the delay to the start of production, but the film is going ahead as planned," he said.
The third instalment will see Renee Zellweger reprise her role as the hapless singleton. The Full Monty's Peter Cattaneo will direct, while Helen Fielding is co-writing the screenplay with David Nicholls.
Bridesmaids' Paul Feig was originally lined up to direct the project, but left amid creative differences last year, according to reports in the Hollywood Reporter
Colin Firth is also set to return as Mark Darcy, while Grant will play suave troublemaker Daniel Cleaver - despite telling BBC News in 2009 that he had no plans to make another film in the Jones franchise.
"I think Bridget Jones two was a mistake, to be honest with you," the star said, back in 2009.
"It wasn't a very good script and I resisted it for a long time, so did Colin and so did Renee. And we got kind of conned into making it."
The movies are based on novelist Fielding's fictional heroine, Bridget Jones - and her wayward love life.
The first film, released in 2001, was an international hit and spawned the sequel, Bridge Jones: The Edge of Reason in 2004.