Billy Connolly ends comedy shows early after heckles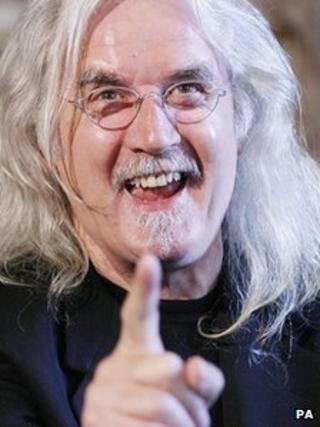 Comedian Billy Connolly has been criticised for ending two stand-up shows in a week early, due to hecklers.
Fans were left disappointed in Blackpool last weekend after the comic walked off stage 20 minutes early after verbal abuse from audience members.
A few days before, he also cut short a gig in Scarborough.
A spokeswoman for Connolly declined to comment on the incidents but said the comic's tour would continue in Llandudno, Wales, on Friday.
Fans reported the 69-year-old Scot walked out of the Blackpool gig after he was interrupted during one of his jokes.
Ffyona McKeating, who attended the show in Blackpool, told the Blackpool Gazette: "It was such an anti climax and I felt he should have been used to hecklers."
Another person said: "I think he should have had consideration for the majority instead of spoiling it because of one heckler. When he left the stage he wasn't smiling and didn't thank the audience for attending."
A spokesman for the Blackpool Opera Theatre confirmed to the BBC: "The performance on Saturday concluded at approximately 9.40pm which was a shorter performance than the previous night."
The previous week, Connolly cut short his gig at the Futurist Theatre in Scarborough after being disrupted by drunk patrons heckling and leaving their seats during the show to go to the bar.
Paul Tye told the Scarborough Evening News the comedian left the stage before telling his last joke saying he seemed "clearly upset".
Another fan said: "The bar should not be open when a show is running. People constantly got up out of their seats and it was extremely disrespectful to Billy."
A spokesperson for the theatre was not available for comment.
The curtailed shows follow reviews which criticised Connolly's two-hour set over his use of previously heard material.
Earlier this week, he was voted the UK's most influential stand-up comedian of all time in a poll compiled by fellow comedians.
His current 42-date tour is due to end in Brighton in March.