Fred West drama Appropriate Adult wins TV award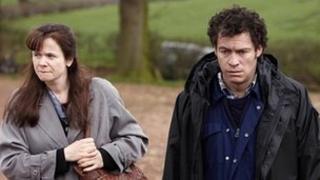 Appropriate Adult, ITV1's dramatisation of the arrest of serial killer Fred West, has picked up best single drama at the Broadcast awards in London.
The Hour actor Dominic West starred in the two-parter as West, who killed himself in prison in 1995 after being arrested and charged with eleven murders.
Coronation Street was named best soap and Downton Abbey continued its recent run of awards with best drama series.
Sky 1 was named channel of the year.
The BBC's Our War, a series marking the ten-year anniversary of the war in Afghanistan, picked up two awards for best documentary series and best multichannel programme.
The Trip, starring Steve Coogan and Rob Brydon, was named best new programme and the best music programme went to BBC Three's Frankenstein's Wedding - a reimagining of Mary Shelley's classic horror tale, mixing drama and dance.
E4 series, and subsequent box office hit, The Inbetweeners was awarded with best comedy programme, while Sky News received a commendation for The Fall of Tripoli - its coverage of the unfolding events in Libya, which led to the overthrow of Colonel Gaddafi.
In the children's programming categories, there were awards for CBeebies' Rastamouse and ITV's Grizzly Tales.
Magician Dynamo, aka Steven Frayne, picked up his first TV award, winning best entertainment programme for Dynamo: Magician Impossible on Watch.