Jean Dujardin Oscar 'under threat' over film posters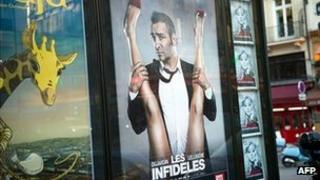 Movie billboards in Paris featuring The Artist actor Jean Dujardin might affect his chances of winning an Academy Award, according to French press.
The country's advertising standards authority ARPP said the posters, promoting Les Infideles (The Players), "present a degrading image of women".
One of the adverts features Dujardin holding the bare legs of a woman, with his head between her high-heeled feet.
Le Parisien said the US would not find the "salacious photos" amusing.
But L'Express magazine questioned whether any row over the posters would actually affect the actors chances of taking home the best actor Oscar.
The publication asked whether removing the posters was "logical, given their openly misogynistic character, or a disgraceful censorship that reveals the strength of political correctness in our society?"
'Flamboyant idiots'
The ARPP said it had received four complaints from members of the public, who found the billboards offensive.
The posters, which went on display on Monday, "propagate an image of women that damages their dignity," ARPP managing director Stephane Martin said.
Speaking to the French news agency AFP, he added they "present a degrading image of women" because "you do not see the woman's face.
"This is certainly presenting an image of women as objects, in this case sexual objects."
Controversial stories surrounding Oscar favourites are not unheard of in the run-up to the awards ceremony.
Last year, a story about George VI, the central character in the Oscar-winning The King's Speech, began circulating on the internet, alleging the wartime monarch had Nazi sympathies.
Although it did not involve the film directly, The Telegraph reported that the campaign had been launched to affect the film's chances, which has become common practise among studios.
During an interview with Premiere magazine, Dujardin said his new film was a satirical role, which focuses on male infidelity.
He described the two lead roles as "flamboyant idiots."
The actor has been widely praised for his role in the silent movie The Artist, which has been nominated for nine Oscars.