Gary Oldman honoured by public vote at critics awards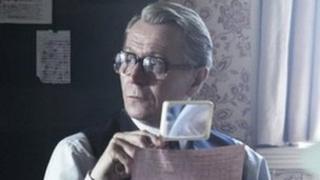 Gary Oldman has won his first acting award in more than two decades for his role in Tinker Tailor Soldier Spy.
Oldman was voted best British film star in a public vote at the annual Richard Attenborough Regional Film Awards.
"This is the first prize for acting in a specific performance that I've received in over 20 years and that makes it all the more special," the actor said in a statement.
Tinker Tailor was also named British film of the year.
Oldman, who plays spymaster George Smiley, received his first ever Oscar nomination last week and is up for best actor at the Baftas.
His critics' award was accepted by Tinker Tailor screenwriter Peter Straughan, who won the best screenplay prize with his late wife and writing partner Bridget O'Connor.
Ms O'Connor died before filming began and the finished film is dedicated to her.
Straughan said: "I'm thrilled that Bridget and I have won this award - especially as it is associated with such a great filmmaker and voted for by so many critics and writers from all around the country. It means a great deal to me and is a wonderful tribute to my late wife's work."
Established in 2006, the Regional Film Awards (Rafas) have 13 categories - six voted for by regionally-based film critics throughout the UK, and seven decided by public votes. The awards are dedicated to actor and filmmaker Lord Attenborough.
In the critics' categories, the winners were:
Film of the year: The Artist (previously announced)
Filmmaker: Michel Hazanavicius - director, The Artist
Screenwriter: Bridget O'Connor and Peter Straughan - Tinker Tailor Soldier Spy
Actor: Michael Fassbender - Shame
Actress: Meryl Streep - The Iron Lady
Rising star: Tom Hiddleston - War Horse, Thor, The Deep Blue Sea, Midnight in Paris
UK public votes
British film of the year: Tinker Tailor Soldier Spy
Animated film: Arthur Christmas
Family film: The Adventures of Tintin: The Secret of the Unicorn
British film star: Gary Oldman - Tinker Tailor Soldier Spy
Film star: Robert Pattinson - The Twilight Saga: Breaking Dawn Part 1
Film Blog: CineVue
Most anticipated film of 2012: The Dark Knight Rises