Contemporary artist Mike Kelley found dead, aged 57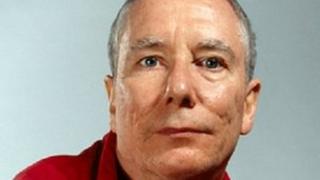 Contemporary artist Mike Kelley, who was known for his macabre multimedia artworks, has been found dead at his home in Los Angeles, aged 57.
A statement from the Gagosian gallery, which represented Kelley, called him "an irresistible force".
"We cannot believe he is gone. But know his legacy will continue to touch and challenge anyone who crosses its path."
Kelley's notable works included the feature-length musical Day is Done and several pieces made with rag dolls.
The 1987 work More Love Hours Than Can Ever Be Repaid featured stuffed animals, discarded toys and blankets strewn across a canvas, and became one of his signature works, exploring themes of loss and remembrance.
He held a solo exhibition, The Uncanny, at the Tate Liverpool in 2004 which featured a number of wax figures, surreal mannequins, newspaper clippings and cartoons.
Other major solo exhibitions included Catholic Tastes, at the Whitney Museum of American Art in New York - which established him as a major figure in the art world in 1993 - and 2006's Profondeurs Vertes, at the Louvre in Paris.
Kelley was reported to have been depressed following a break-up with his girlfriend, and police suggested his death may have been suicide. An autopsy is expected.
Paul Schimmel, chief curator of the Museum of Contemporary Art in Los Angeles, said: "LA would not have become a great international capital of contemporary art without Mike Kelley."
"Of all the artists in the 1980s, he was the one who really broke out and established a new and complex identity for his generation."
Born in Detroit in 1954, Kelley worked across a number of genres, including installation, videos and drawing, and his work was seen as dark and challenging.
His most recent UK show, at London's Gagosian gallery, featured Superman's extraterrestrial birthplace encased in a glass jug, along with an S&M-themed film.
He was also closely involved with music, having founded the band Destroy All Monsters in 1974, prior to attending art college. The band Sonic Youth used Kelley's work on the album cover for Dirty released in 1992.
However, curator and friend Emi Fontana told the Los Angeles Times that Kelley was dissatisfied with the state of the art world, which he complained had become too corporate.
"If I were to start now, I would never become a visual artist," she quoted the artist as saying.
A Kelley retrospective is set to be the inaugural show of the Stedelijk museum in Amsterdam when it reopens, currently scheduled for the end of the year.