Don Cornelius: Aretha Franklin leads tributes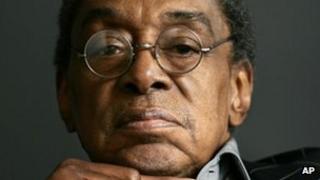 Aretha Franklin, Quincy Jones, Snoop Dogg and Slash are among the artists, who have paid tribute to the late Soul Train creator Don Cornelius.
The 75-year-old, who hosted the US music show for 22 years, shot himself at his Los Angeles home on Wednesday.
Franklin said the star had helped boost "unity and brotherhood" with the creation of Soul Train.
Jones said he was "shocked and deeply saddened at the sudden passing of my friend".
He added: "Don was a visionary pioneer and a giant in our business. Before MTV there was Soul Train, that will be the great legacy of Don Cornelius."
'Genius'
Cornelius paid $400 (£252) from his own pocket to launch Soul Train in 1970.
The show was a live showcase for black music, following a similar format to the UK's Top Of The Pops.
It brought artists like James Brown, Aretha Franklin, Marvin Gaye and The Jacksons into US homes throughout the 1970s and 80s. The programme, which Cornelius wrote, presented and produced, was also a platform for white rock musicians like Elton John and David Bowie to reach black audiences.
As host, Cornelius became known for his dapper dress sense, and his deeply-intoned greeting to "the hippest trip in America".
"He was able to provide the country a window into black youth culture and black music," Lonnie G. Bunch III, the director of the Smithsonian's National Museum of African American History and Culture, told the New York Times.
"For young black teenagers like myself, it gave a sense of pride and a sense that the culture we loved could be shared and appreciated nationally."
Author Maya Angelou said: "We all have a great debt. His work in the 60s and 70s helped us to see, again, that human beings, we're more alike than we were unalike and the music and the people he showed allowed us to see."
Former Guns N' Roses guitarist Slash said Cornelius was "quite the maverick in his time" while rapper Snoop Dogg simply said: "RIP Don Cornelius."
Tom Morello from the band Rage Against the Machine said Soul Train was his "first exposure" to music and songwriter Kenny Gamble added: "The Soul Train legacy will show you how great this man was."
Patti LaBelle hailed the TV producer as a "genius", adding: "The contributions he made to music and our culture are second to none."
Drummer Amir ?uestlove of The Roots said Cornelius was the "most crucial non-political figure to emerge from the civil rights era post 68," next to Motown founder Berry Gordy.
Human rights activist Rev Jesse Jackson said: "Part of every person's soul who grew up on Soul Train died with him."
The Rev Al Sharpton, who has known Cornelius since he was 19, said: "He brought soul music and dance to the world in a way that it had never been shown and he was a cultural game changer on a global level."