Sir David Jason questions US Fools and Horses remake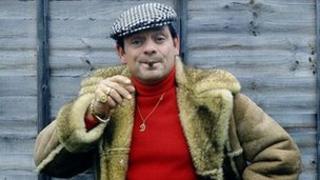 Actor Sir David Jason has said he doubts that his classic sitcom Only Fools and Horses can be a success when it is remade for a US audience.
"They can do brilliant comedy [in America] but I don't see that they can bring off Fools and Horses," he said.
"I don't see that it will travel across the pond." The ABC network is to make a pilot for a US version of the series.
Sir David was speaking in Huddersfield, where he is directing a pilot for a sitcom called Pearly Gates.
The actor played Del Boy in Only Fools and Horses from 1981 to 2003. The following year, it came top of a poll to find the UK's greatest ever sitcom.
When asked who should recreate his most famous role, Sir David suggested Johnny Depp.
"You would never get him because he's too big but I'd go for Johnny Depp because he's such a good actor," he said.
The exploits of the hapless wheeler-dealer Del Boy and his put-upon brother Rodney made them comedy favourites in the UK, but Jason said he was not convinced that a show with such a British sense of humour could translate.
"It might work but you've got to change it so much that, in the change, in order to Americanise it, do you lose the whole concept of the piece?" Sir David said.
"The language will have to change so much and there will be so many parts of the storyline you have to change.
"It's so London and so British, [in] its humour, that you wonder. It's London based and it took quite a long time for the rest of the country to catch up with the phrases.
"I have no idea what the American equivalent of 'plonker' is, for example. Or 'dipstick'."
The 1996 Christmas special of Only Fools and Horses was seen by more than 24 million people, making it one of the most-watched programmes in the history of British TV.
There have been international remakes, including Wat Schuift't? in The Netherlands and Brat Bratu in Slovenia, where Del Boy's three-wheel Reliant Robin car became a camper van.
Meanwhile, Sir David admitted that his latest comedy The Royal Bodyguard, which finished its six-episode series on BBC One on Monday, failed to hit the target.
The show, in which 71-year-old Sir David played a bumbling royal protection officer, was panned by critics and saw its audience drop from 8.4 million for the first episode on Boxing Day to 2.8 million on Monday.
"You can't get it right all the time," he said. "We tried, we had a good go, we enjoyed doing it, and yeah, perhaps I think we didn't quite bring it off and it came in for quite a lot of harsh criticism.
"But there you are - if you don't put your head above the parapet you won't get it shot off. You've got to do that occasionally."
In Pearly Gates, Sir David is directing The Fast Show and Harry Potter star Mark Williams in a comedy about a family firm of undertakers.
The pilot episode will be screened for BBC executives, who will then decide whether to order a full series for BBC One.