Asian characters stereotyped in UK soaps, actor claims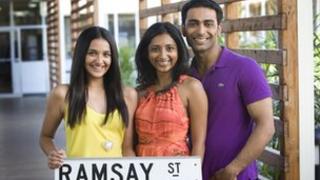 Australia is more forward-thinking than the UK when it comes to portraying ethnic minorities in soaps, an Asian-Australian actor has claimed.
Sachin Joab plays Ajay Kapoor, a member of the first ever South Asian family to move into Neighbours' Ramsay Street.
He says the family were written without resorting to "cheesy stereotypes".
"There are no Indian accents, no references to Hinduism or Islam, or Bollywood music," he said. But UK soap producers have defended their shows.
ITV says the characters on Coronation Street are not defined by their ethnicity, adding that the show is "very much character-led and not issue-led".
Diverse mix
Three years ago, Sir Trevor Philips, who chairs the Equality and Human Rights Commission (EHRC), headed a report into cultural stereotypes on TV.
The report concluded that shows like The X Factor and Strictly Come Dancing represented the UK's diverse ethnic mix more than British soaps.
Among the UK's leading soaps, EastEnders has featured Asian characters since 1985 and Coronation Street got its first permanent Asian family in 1998.
ITV says its Asian characters do not play up to cultural stereotypes.
In a statement, it said: "Dev and Sunita do run a corner shop, but that is incidental to their love lives, relationships and dramas that they find themselves at the centre of."
Shobna Gulati plays the role of Sunita in Coronation Street and says her character's experiences - from life threatening disease and long love affairs to one night stands, marriage and divorce - transcend stereotypes.
"Her cultural references stem from her family, friends and environment," she told the BBC. "She is not defined by these. These references do not form her behaviour and they are not her story.
"I cannot deny my own diverse origins, heritage or cultural reference, why should I? After all, I am an actor and I will bring that to the table to inform my work, but not to define it.
"I play Sunita. I play a person, a human being. She is a barmaid and she does not pull a racially stereotyped pint," she says.
'Watering down'
Joab says that Neighbours should be commended for its representation of Asian people.
"They could have easily said, 'OK, your character is Ajay Kapoor and we need you to speak with an Indian accent'. But they didn't even ask. They just said 'You're Aussie and you are going to play an Aussie.'"
However, not everyone agrees that cultural traits should be discarded.
Hajaz Akram, principal of the Academy of Asian and Ethnic Dramatic Arts (AAEDA) in London, is concerned that Neighbours is watering down what it means to be Asian.
"Asian families do come from ethnic and religious backgrounds, and we need to explore and celebrate that. I think that's important for us to explore as Asian people, but also to let communities be educated themselves."
When Neighbours first announced the arrival of the Kapoor family, some people posted racist comments on the show's website.
A minority of Neighbours fans claimed it was "un-Australian" to cast the new family. The comments were quickly removed, and Neighbours executive producer, Susan Bowers explained that the show wanted to represent a "more modern society".
But Akram says that, in doing so, the show is failing to represent the distinctiveness of ethnic minorities.
"If you've got a family that is just like everybody else, and who they are and what they stand for doesn't matter, then where is the issue?
"I think there is a massive missed opportunity."
The BBC did not immediately respond to a request for comment on this story.
You can hear more on Asian Network Reports on BBC Asian Network