Wikileaks' Julian Assange to star on The Simpsons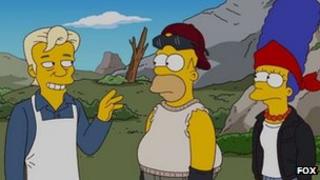 Wikileaks founder Julian Assange is to guest star on animated comedy The Simpsons, it has been confirmed.
The 500th episode will see the family moving to an isolated house and finding themselves living next to Assange.
Fox said Assange, currently under house arrest while he appeals against his extradition to Sweden over alleged sex offences - which he denies - recorded his lines from the UK.
The new episode will be broadcast in the US on 19 February.
The Simpsons' executive producer Al Jean told Entertainment Weekly that series creator Matt Groening heard a rumour that Assange was interested in guest-starring on the series.
"We asked our casting director Bonnie Pietila - who had been able to unearth Thomas Pynchon and got Tony Blair to do the show - to find Mr Assange. And she did," Jean said.
Jean added the show's creative team realised Assange was "controversial" but they avoided delving into "the legal situation that he's in".
"We wanted to make sure it was satirical, and he was willing to do that," he said.
Last year's guests included 24 star Kiefer Sutherland, chef Gordon Ramsay and Glee's Jane Lynch.