Opera singer Camilla Williams dies at 92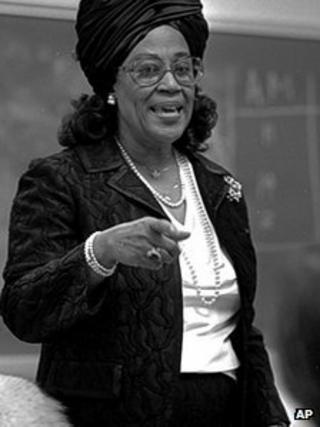 Camilla Williams, the first black woman to appear in a leading role with a major US opera company has died in Indiana aged 92.
She had been suffering from cancer, according to Indiana University Jacobs School of Music, where Williams became the first black professor of voice.
The singer made her debut in May 1946 in the title role of Madam Butterfly with the New York City Opera.
She also became a strong advocate for civil rights.
"It's impossible to overstate how important that was for the music scene in New York, for African-American singers, and for American singers," F Paul Driscoll, the editor-in-chief of Opera News, told the Washington Post.
Williams' debut performance came nearly nine years before Marian Anderson became the first African-American singer to appear at New York's more prestigious Metropolitan Opera.
A New York Times review of Williams at the time, said the singer displayed "a vividness and subtlety unmatched by any other artist who has assayed the part here in many a year".
The following year she performed the role of Mimi in Puccini's La Boheme and in 1948 she sang the title role of Verdi's Aida.
In 1951 she sang the title female role in first complete recording of Gershwin's Porgy and Bess.
A lifetime member of the National Association for the Advancement of Colored People (NAACP), the singer performed in her hometown of Danville, Virginia in 1963, to raise funds to free jailed civil rights demonstrators.
She also sang the national anthem before 200,000 people at the 1963 civil rights march on Washington, immediately before Martin Luther King gave his famous I Have a Dream speech.
In 1950, she married defence lawyer Charles Beavers, whose clients included civil rights leader Malcolm X.
After Beavers' death in 1970, Williams stepped away from opera in 1971 and began teaching before eventually retiring in 1997.
Her autobiography - The Life of Camilla Williams, African American Classical Singer and Diva - was published last year.