London 2012: Olympic art recreates French masterpiece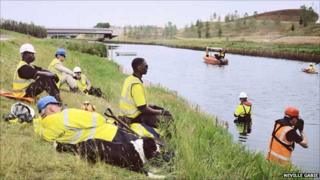 A photo of Olympic Park workers posed to resemble a famous French painting was "triggered" by similarities between the two landscapes, the artist said.
Neville Gabie was artist-in-residence for the Olympic Delivery Authority (ODA) while the site was built from October 2010 to 9 January, when it was handed over to Games organisers Locog.
"I had been shown some visualisations of how the park would look," he said.
"The similarity with that and Bathers at Asnieres struck me immediately."
Georges Seurat's famous painting, which is housed in London's National Gallery, is a famous 19th Century impressionist masterpiece.
But it was not just the physical resemblance of the riverbanks from both images that struck Gabie.
"Seurat's artwork was painted [in 1884] when France really embraced being a republic, when it had become acceptable to paint ordinary urban, working-class people with factories in the background," he told the BBC.
"The PR for the Olympic Park is that's it's a public park for people, but instead of being a post-industrial landscape, it has big, iconic sporting venues," he said.
This struck a chord with him, and he realised that his version, Freeze Frame, could have social parallels with the original.
Gabie's next thought was who would populate his iconic photograph, so he ensured that his time on the site was spent "following the characters working in the park".
"I know them all pretty well now," he said, adding that the people in his image all worked in the northern part of the Olympic Park.
They include its landscape architect and gardeners, a security guard and an engineer. The man and his dog are former members of the Metropolitan Police's explosives team.
'Stressful'
Gabie blogged about how painstaking it was to get the exact shot he wanted, which was taken in June 2011.
"I had no idea that what seemed like such a simple idea would prove to be so complex - in fact a logistical nightmare!" he wrote.
"Just getting the equipment and kayak on to the park through security and getting everyone from their various sites to the one location was more stressful then I thought possible.
"To get everyone, including the boats on the water in exactly the right position for the one single moment of the photograph took an age. When Steve's dog Buddy was still, then the boats were drifting off course, or a digger would appear on the opposite bank."
Gabie, who was born in Johannesburg, South Africa, in 1959, trained in sculpture at the Royal College of Art and is resident in the UK.
His work includes photography and sculpture and he was previously artist-in-residence for a £500m shopping, leisure and residential centre in Bristol and was also part of an artists' and writers' programme at Halley Research Station in Antarctica.
He is now working on pieces inspired by his time at the Olympic site, having tried to "see as much as possible while making my research films".
The artist said he was now making his ideas "visible" through films and sculptures.
One of his works features a Turkish Cypriot woman who drove a bus which ferried workers around the Olympic Park.
"It's a fantastic story, she was such an inspirational character - and she was also an obsessive swimmer," he said.
His 25-minute film is of her swimming the length of her bus route - just under one mile - in the Olympic pool in the Aquatics Centre.
The film's length was determined by the time it took her to do the swim, and it also included footage of her at work with her colleagues.
"There is a hidden cohort of 30 bus drivers who work on the park," the artist added. "I think their commitment of time, the hours they do is extraordinary."
Another film, which features 239 portraits of the people who built the stadium, lasts 9.58 seconds, the exact length of Usain Bolt's world record 100m. It is currently showing at View Tube, a viewing platform opposite the Olympic site.
Blink and you will miss it - the film has one person per frame - but Gabie said: "You can make people out in it surprisingly." It is not yet on his website as he said he is adding his artworks gradually.
He also made a film based on him being in the stadium by himself.
"When you stand in a massive, empty stadium on your own, how do you make sense of a space so big and quiet?" he said.
"In the light of how much activity will be taking place there, how can you measure the scale of it?"
In the end, he decided to film himself sitting in as many seats as he could manage, dressed in full builder's gear of high-visibility vest, hard hat and steel toe-capped boots.
"I spent 69 hours there, and sat on about 40,000 seats - it had a total of 69,000 seats when I filmed it." It can now seat 80,000 spectators.
This work resulted in three films. One was in real time, one was in time-lapse photography and the third was slightly speeded up.
As well as being exhibited at View Tube, the works will also be shown at Newham Leisure Centre in the Olympic borough.
Gabie is also working on several sculptural objects, which he said are based on: "Bits from the Velodrome, tools and so on."
He also tried to walk in a straight line across the Park and will do an artwork inspired by this.
"I'm working now with the Olympic Park Legacy Company, doing a big publication and hopefully will have another exhibition in November," he added.