Opera fulfils artist's last wish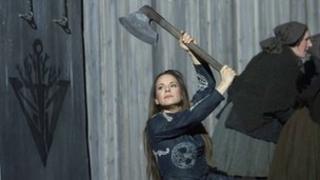 An eccentric opera designer who left £150,000 in her will to stage a new production of her favourite show has been honoured as it reaches the stage.
Gertrude Pfaffinger was a prop and costume designer who also provided lodgings for cast and crew of Opera North at her home in Leeds.
Her bequest has helped fund a new version of Vincenzo Bellini's Norma.
Opera North director Richard Mantle described her as "a great eccentric in the best possible sense of the term".
Pfaffinger, who died in 2009, had also worked for Scottish Opera, the Royal Opera House and the English National Opera.
Mantle said she had "in an act of quite extraordinary generosity made a bequest to Opera North on the understanding that it would be used to mount a new production of Norma and dedicated to her memory and in homage to one of the great Normas of the past, Maria Callas.
"This we do with affection and an enormous sense of gratitude."
Costume designer Sue Willmington, who created the costumes for Norma, recalled Pfaffinger "working in bright pink boiler suits, vertiginous heels and dyed blonde hair in the pitch black in the basement".
"Gertrude had an incredibly strong character, unafraid to give directors notes and she was completely crazy about opera," she said.
Pfaffinger's sister travelled from Germany to attend the first night in Leeds on Saturday.