Liam Neeson movie The Grey tops US box office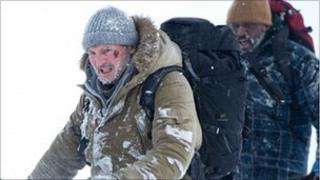 Action movie The Grey, starring Liam Neeson as a survivor of an aeroplane crash, has gone straight to the top of the North American box office chart.
The film took $20m (£13m) between Friday and Sunday, according to industry estimates.
Neeson leads a group of survivors battling harsh weather and a pack of wolves in the Alaskan wilderness.
Underworld: Awakening was knocked down to second place, having taken $12.5m (£8m) over the same period.
Katherine Heigl's new comedy One for the Money, based on the novel by Janet Evanovich, finished in third place with $11.8m (£7.5m).
Oscar contenders Hugo, The Artist and The Descendants all enjoyed a box office boost after their nominations were announced last Tuesday.
Takings for George Clooney's The Descendants - $6.6m (£4.2m) - jumped 176% compared with last weekend, while The Artist increased by 40% to $3.3m (£2.1m).
Martin Scorsese's Hugo, which leads the Oscar race with 11 nominations, jumped 143% with weekend takings of $2.3m (£1.5m).