Original Happy Mondays line-up to re-form for tour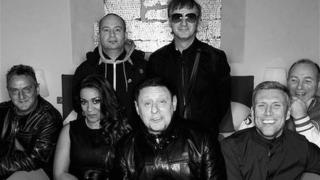 The Happy Mondays will re-form for a two-week tour in May that will take in cities including Manchester, London, Newcastle and Birmingham.
Although the Salford band have re-formed previously, this will be the first time the original line-up has played together since 1992.
"We all met up last week and some of the lads haven't seen each other in 10, 15 years," said singer Shaun Ryder.
"It's as if we've never been apart," he added.
Backing singer and X Factor finalist Rowetta Satchell told BBC Radio Manchester at the weekend that the drive to bring the original members back together had come from Ryder and his manager.
"We decided it would only be special and work if it was the total, original line-up," she said.
The newly reformed Inspiral Carpets will be special guests on the tour, which kicks off in Newcastle on 3 May.
The tour will also travel to Glasgow, Bournemouth, Sheffield, Leeds and Dublin.
The band, who were at the forefront of the Madchester scene, formed in 1980 with Ryder as their frontman.
The original band also included Ryder's brother Paul, guitarist Mark Day, Paul Davis and drummer Gary Whelan and were later joined by Mark 'Bez' Berry and Satchell.
Discovered by music impresario Tony Wilson, they went on to release such albums as Bummed and Pills 'N' Thrills And Bellyaches before disbanding after 1992's Yes Please!.
They re-formed twice, most notably in 1999, but split again in 2001 with Paul Ryder vowing never to perform with his brother again.
A further incarnation of the band followed in 2004 with only Shaun Ryder, Bez and Whelan from the original line-up.
Tickets for the new tour go on sale on 3 February.