Uggie the dog to retire, says trainer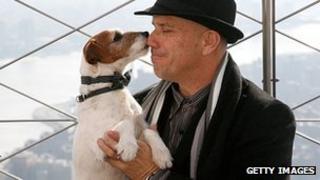 Uggie, the canine star of Oscar-nominated hit The Artist, is to retire, his trainer has said.
Omar von Muller told Life and Style magazine he was hanging up his collar because the 10-year-old Jack Russell terrier was "getting tired".
"He may do a couple of little things here and there because he enjoys them, but I don't want to put him through long hours anymore," he said.
It is thought Uggie will make his final appearance at the Oscars.
"I hope he gets to go," said von Muller. "They should give him an envelope to bring to Billy Crystal."
The canine plays the best friend of fading matinee idol George Valentin, played by Jean Dujardin in The Artist.
While technically not eligible for an Oscar nomination, there was, nonetheless, a campaign to secure Uggie a best supporting actor nod.
He is, however, nominated for two Golden Collar Awards - an award given for the best performances by dogs on TV and in film - for his performances in both The Artist and 2011's Water for Elephants.
He was also honoured with the Palm Dog, for best performance by a canine, for the latter film at last year's Cannes Film Festival.
Von Muller said Uggie's younger brother Dash would continue in his footsteps, having already worked as his stand-in on The Artist.
"Uggie is 10 years old and has done a lot of work - he wants to relax at home," he said.
"If somebody wants to do a movie with Uggie, they'll just have to deal with Dash."