Mail Online overtakes NY Times as top online newspaper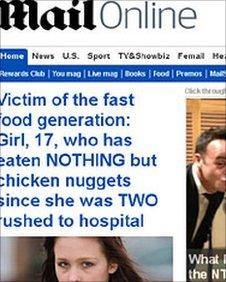 The Mail Online has overtaken the New York Times website as the most visited newspaper site on the web, according to figures from tracking firm comScore.
Data suggests the UK's Daily Mail had 45.35 million unique visitors during December, inching the site ahead of the New York Times with 44.8 million.
But a spokeswoman for the US paper suggested the Mail won by including visitors to a sister site.
Eileen Murphy insisted it remained "the number one individual newspaper site".
Taken individually, dailymail.co.uk attracted 44.5 million unique visitors last month while its financial site, thisismoney.co.uk, attracted 1.03 million.
The New York Times reached 44.8 million unique users.
"It's a roll-up of their properties," argues Ms Murphy.
"In any case, a quick review of our site versus the Daily Mail should indicate quite clearly that they are not in our competitive set," she added.
The New York Times has long been the most-visited newspaper website in the world, but comScore data - an industry standard widely used by advertisers - suggests the Mail may have the edge.
In September last year, comScore reported that the Mail Online had become the UK's most popular newspaper website.
Mail Online's editor, Martin Clarke, believes the growth is driven by the increase in US traffic. Since the online site was established in 2008, the newspaper has set up offices in Los Angeles and New York employing a total of 29 staff.
"We are now one of the biggest players in terms of internet news, as is the New York Times - and I'm sure we both will be for a while," Clarke said in an interview with media website BuzzFeed.
Completing the top five list of most-visited newspaper websites were USA Today with 37.17 million unique visitors in December, Tribune newspapers with 32.83 million and the Guardian with 29.15 million.
Related Internet Links
The BBC is not responsible for the content of external sites.