War Horse leads National Theatre's global charge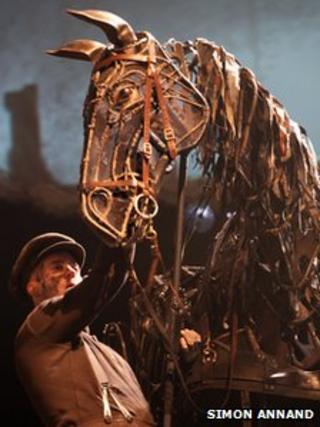 The National Theatre hopes the success of its shows like War Horse will help boost its ticket sales to more than 3m within the next two years.
The figure includes audiences attending the theatre's touring productions as well as live cinema screenings.
The theatre's plans for 2012 includes a new Alan Bennett play, and an adaptation of novel The Curious Incident Of The Dog In The Night-time.
Richard Bean is also writing a version of The Count of Monte Cristo.
Forthcoming plays will feature star names such as Simon Russell Beale, Adrian Lester, Una Stubbs, Julie Walters, Rory Kinnear, Helen McCrory and Cillian Murphy.
Announcing the new programme on Wednesday, artistic director Nicholas Hytner said: "We are expecting to have audiences of more than 3m by 2014."
In the year 2010-11, the National Theatre's combined audience - including cinema broadcasts - was 1.6m.
Hytner said the NT was "offering unprecedented access across the country and across the globe" with its transfers, tours and broadcasts.
War Horse is at the forefront of its global charge. By the end of 2012 there will be productions in London, New York, Toronto and Melbourne. A national US tour begins in June 2012, with a nine-month tour of the UK from September 2013.
Last year, the West End production, which first opened in 2007, generated £13.9m at the box office.
In total, the NT made more than £70m in 2010-2011, with 48% coming from box office receipts, tours and the West End run of War Horse.
Based on the novel by Michael Morpurgo, the play also opened on Broadway last year, where it won five Tony Awards.
Steven Spielberg's film adaptation of the story, in which the NT has a small stake, opened in the UK this month, and is in the running for best picture at the Oscars.
Hytner told Sky News last week that he thought the play would prove more profitable for the National Theatre than it would for Spielberg's studio.
Another National hit has been Richard Bean's One Man, Two Guvnors which continues its London run while also opening on Broadway with original cast members James Corden, Oliver Chris and Jemima Rooper.
There will also be a second UK tour in autumn 2012, followed by an international tour.
Cristo jokes
Bean's next work for the National will be adaptation of Alexandre Dumas' novel The Count of Monte Cristo.
"There are already jokes in the Count of Monte Cristo that Dumas never dreamed of," Sir Nicholas told the BBC.
"It felt time to take one of these great old stories and make a big contemporary show out of it."
Other new productions at the Olivier include Sophocles' Antigone and Timon of Athens, with Simon Russell Beale in the lead role.
Collaborators, by Trainspotting screenwriter John Hodge, and controversial musical London Road, based on the 2006 Ipswich murders, will both be revived at the Olivier.
Next year, when the National celebrates its 50th anniversary, Hytner will direct Othello with Adrian Lester in the title role and Rory Kinnear as Iago.
The director gave away little about Alan Bennett's People, which will open in the Lyttelton in October.
"He writes a play and then lets me know he's written a play and this is his new work," he said. "It's a contemporary play, it's set now and, as I say, we will say more about it later".
He added: "I howled with laughter when I read it, it's funny and it's got lots to say and it's touching".
Also at the Lyttelton, Cillian Murphy will recreate his solo performance in Misterman, written and directed by Enda Walsh, which has already played in New York and Ireland.
Julie Walters will appear alongside Rory Kinnear and Helen McCrory in a new play, called The Last Of The Haussmans, in June.
At the Cottesloe in July, Una Stubbs stars in an adaptation of Mark Haddon's best-selling novel The Curious Incident Of The Dog In The Night-Time. The cast includes Luke Treadaway and Nicola Walker.