US actor James Farentino dies aged 73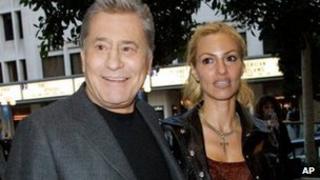 US actor James Farentino, who appeared in dozens of movies and TV shows, has died aged 73.
He passed away at the Cedars-Sinai Hospital in Los Angeles from heart failure, spokesman Bob Palmer said.
One of his most well known films was the 1980 science fiction film The Final Countdown, in which he starred alongside Kirk Douglas.
In 1967, he won a Golden Globe newcomer award for his role in The Pad and How to Use It.
One of the last contract performers with Universal Studios in the 1960s, Farentino went on to land recurring roles on popular shows such as Dynasty, Melrose Place and The Bold Ones: The Lawyers.
He also appeared several times in ER as George Clooney's estranged father.
In 1978, he was nominated for an Emmy for his portrayal of Saint Peter in the television mini-series Jesus of Nazareth.
Aside from his acting, Farentino was almost as well known for his torrid personal life. Divorced three times, Farentino also dated one of Frank Sinatra's daughters, Tina.
In 1994 their relationship made headlines after the actor pleaded no contest to stalking her.
He is survived by his current wife, Stella and two sons.