War Horse remains on top of UK film chart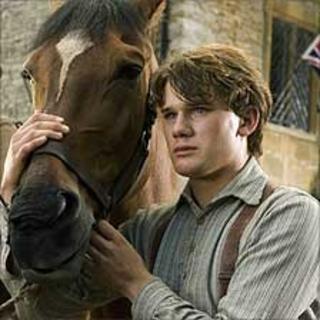 Steven Spielberg's War Horse has kept the number one spot in the UK and Ireland box office chart.
The war epic saw off competition from new release Haywire, a spy thriller starring Ewan McGregor.
Helmed by Ocean's 11 director Steven Soderbergh, the movie debuted at number two, followed by another new release, Underworld: Awakening in third place.
Sherlock Holmes: A Game Of Shadows fell one place to number four, with The Iron Lady rounding off the top five.
War Horse, about a young boy and his horse Joey during World War I, has taken a total of £9.6m since it opened earlier this month.
The epic movie has been adapted from Michael Morpurgo's 1982 book, with Four Weddings scribe Richard Curtis among the credited writers.
However, the film has divided critics. Some were moved by the emotional storyline, while others called it mawkish and unconvincing.
Double Banderas
The Sitter was the only other new release in the top 10 this week.
The comedy movie, starring Jonah Hill (Superbad, Knocked Up) as a woefully-underprepared child minder, took £910,382 in its opening weekend.
In seventh place was Mission Impossible: Ghost Protocol, followed by silent movie The Artist.
The top 10 was completed by two children's movies - Alvin And The Chipmunks: Chipwrecked at nine, followed by Shrek spin-off Puss In Boots.
The fairytale cat is voiced by Antonio Banderas who, thanks to a supporting role in Haywire, clocks up two appearances in this week's box office chart.