Chris O'Dowd: Bridesmaids should be a one-off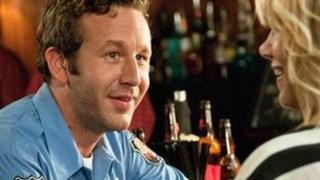 Comedian and IT crowd actor Chris O'Dowd is nominated for the Orange Bafta Rising Star Award, thanks to his role in hit comedy Bridesmaids. He talks to the BBC about his experiences in Hollywood... and County Roscommon.
When Bafta named Chris O'Dowd as a nominee for its rising star award earlier this month, the comedian was slightly bemused.
Why? Because he'd already won a Bafta. In 2005.
"It's nice to know that, seven years on, I'm still 'on the rise,'" the comedian laughs.
That first prize, at the Scottish Baftas, was for a film called Festival, a black comedy following the fortunes of several stand-ups at the Edinburgh Fringe.
"So that was a big stretch for me," he notes drily.
Heartthrob
This year's nomination comes off the back of the success of Hollywood comedy Bridesmaids.
O'Dowd plays police officer Nathan Rhodes, who is smitten with the film's increasingly-flustered protagonist Annie (Kristen Wiig) - despite her relationship with narcissistic heart-breaker Ted (Mad Men's Jon Hamm).
Prior to release, there had been low expectations for a comedy film with a predominantly female cast - but it became a breakout hit, taking $288m (£185m) at the global box office.
"Everybody was taken aback by just how successful it was," O'Dowd says.
"When we were filming, I knew what we were doing was funny - but I didn't see what the rest of the girls were up to because all of my scenes were just with Kristen.
"It wasn't until I watched it for the first time that I realised how funny it was."
Although he only had about 10 minutes of screen time, O'Dowd received a slew of positive reviews - The Wall Street Journal said the Irish actor was "an inspired piece of casting" while Time magazine described him as "quietly swoonworthy".
His heartthrob status may come as a surprise in the UK, where O'Dowd is best known as irascible computer technician Roy Trenneman in the Channel 4 sitcom The IT Crowd.
But the series is not particularly well known in the US, where the actor is judged more for his bit-parts in Vera Drake and Gulliver's Travels.
So the success of Bridesmaids has raised his profile immeasurably.
"It's definitely opened doors for me," he says.
"The only little problem is that it led to an awful lot of offers just to do rom-coms, none of which were as good as Bridesmaids."
"So I was conscious of trying to veer away from that, the easy transition of taking a bigger part in a big rom-com.
"I wanted to try and go off and write and produce and do a musical - all the kind of things people wouldn't necessarily expect."
Comedy conundrum
In fact, his next project is a self-penned sitcom for UK satellite channel Sky.
Moone Boy is loosely based around O'Dowd's childhood in Ireland at the end of the 1980s.
Building on a short film broadcast in 2010, the series tells the tale of an 11-year-old, Martin Moone, and his imaginary friend.
Filming is currently under way in Ireland - with the production setting up shop in O'Dowd's hometown of Boyle, County Roscommon.
"It's been kind of magical," he says. "It's tough times economically - and it was like the whole town was just waiting for something to get excited about. So we've given them an opportunity to vent their optimism.
"Having Steve Coogan walk down the main street where I grew up, it's been kind of surreal."
Casting the Alan Partridge star in the series he scripted is something of a career highlight for O'Dowd.
He calls Coogan his "favourite actor of the last 10 years", and argues that comedians don't get the recognition they deserve.
"I'm not sure the public and awards voters realise how difficult it is to be good and be funny," he says.
"I've done a bit of both - drama and comedy - and if anything, comedy is harder.
"It's like juggling and then you throw in another ball - get the timing right, make it believable and then make sure you're hitting all the funny moments."
Consequently, he's pleased to see Bridesmaids get recognition at the three main film awards - the Baftas, the Golden Globes and the Oscars.
"It's fabulous, isn't it?" he says, although his hectic schedule means he's missed out on the glitzy Hollywood ceremonies so far.
And, despite the film's box office impact, the comedian dismisses rumours of a sequel.
"I've seen a lot of the guys since, but I honestly haven't heard anything about it. I personally think it might be best to leave it."
He's similarly sceptical about his chances at the Baftas - particularly because, at 32, he is the oldest actor on the shortlist.
"I feel like I could have given birth to some of the other nominees," he laughs.
The winner of the 2012 Orange Bafta rising star award will be announced on 12 February.