Jeffrey Eugenides up for US critics award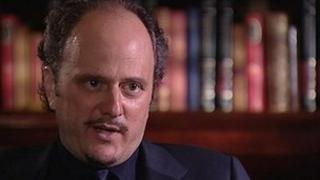 Novelist Jeffrey Eugenides and the late historian Manning Marable are among the nominees for the US National Book Critics Circle awards.
Eugenides is nominated for The Marriage Plot, the tale of three students caught in a love triangle, which opens on the day of their graduation.
Marable, meanwhile, is shortlisted in the biography category for his revelatory history of Malcolm X.
The winners will be announced on 8 March. No cash prize is given.
The fiction shortlist also includes Edith Pearlman, whose Binocular Vision is a collection of 34 short stories, Dana Spiotta's Stone Arabia, a family story centred around a failed musician, and Teju Cole's debut novel Open City, a lyrical account of a solitary street-walker in New York.
British novelist Alan Hollinghurst also receives a nomination for The Stranger's Child, which traces the legacy of a war poet over 90 years.
The book was a controversial omission from the Booker prize shortlist last year, leading the Galaxy awards to name him author of the year as a mark of their "dismay".
Manning Marable, who was a professor of history at Columbia University, spent more than a decade working on his biography of Malcolm X.
Malcolm X: A Life of Reinvention cast doubts on the official account of the black civil rights leader's death - leading to calls for a fresh investigation.
Also shortlisted in the biography category are accounts of Karl Marx, Ernest Hemmingway, Deng Xiaoping and George F. Kennan - a US diplomat who was a key influence on his country's policy towards the Soviet Union during the Cold War.
Pulitzer Prize winner Yusef Komunyakaa received a poetry nomination The Chameleon Couch, pitching him against Pulitzer finalist Bruce Smith.
Other nominees included the late Ellen Willis, hired as the first popular music critic for The New Yorker in 1968, whose collection of essays Out Of The Vinyl Deep was shortlisted for the criticism prize.
As well as the main competitive prizes, the Critics Circle will also present two honorary awards.
Robert Silvers, who helped found The New York Review of Books, will receive the Ivan Sandrof lifetime achievement award.
Kathryn Schulz, who has written for The New York Times, Rolling Stone and many other publications, will be presented with the Nona Balakian Citation for excellence in reviewing.