Tracking 30 years of TV's most watched programmes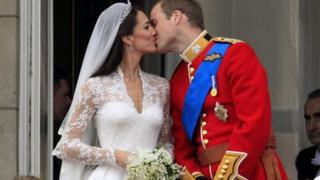 Which TV programme topped Barb's TV ratings in 2011 - and how do the figures compare with those 30 years ago, when the official audience measurement system began?
It was the year of the Royal Wedding.
The official Barb (Broadcasters' Audience Research Board) top 10 for 2011 puts the Duke and Duchess of Cambridge's marriage ceremony in first place, with an average of 13.59m viewers on BBC One and BBC HD alone.
In second came The X Factor Results on ITV1, with 13.46m. Third was the BBC's Strictly Come Dancing Final with 13.34m.
But if you combine all the Royal Wedding coverage across 10 channels, including BBC, ITV, the BBC News Channel and Sky News - William and Kate were the runaway winners.
Their total average audience for the ceremony was 26m - more than the 21.7m who watched Prince Charles marry Lady Diana Spencer 30 years ago.
Although nothing is simple in the ratings world - others claim the audience for Charles and Diana was higher, at 28.4m.
That wedding was in 1981, three days before Barb was launched on 1 August and gave the television industry a single ratings system for the first time.
Before that, the BBC and ITV used separate research methods, which didn't always agree and may explain the disputed higher figure.
Habit changes
The 2011 Barb top 10, and those for the previous 30 years, show how viewing habits have changed over the years - and where they have not.
Steven Spielberg's Jaws scored the highest ratings in 1981 with 23.3m viewers. In those days, before DVDs and movie channels, films regularly won the highest audiences - but no film has topped the Barb list since Crocodile Dundee in 1989.
Ten years later, the list was headed by an episode of Coronation Street with 20.45m viewers - one of 14 occasions in which soaps have taken the top spot.
EastEnders famously attracted 30.10m viewers for the 1986 Christmas Day episode, which featured the spectacular break-up of Angie and Den. That was Barb' s biggest audience ever, but it included the repeat three days later which is no longer the practice.
In 2001, the Christmas Day edition of Only Fools and Horses came top, with 21.35m viewers.
Del Boy and Rodney headed the list again the following year, as well as in 1996, reminding us that comedies can still bring the nation together on the sofa, particularly at Christmas.
No comedies reached the 2011 top 10 - but Wallace and Gromit's A Matter of Loaf and Death topped the ratings in 2008 while Come Fly With Me, The Royle Family and The Vicar of Dibley made the cut with Christmas Day specials.
Last year's Royal Wedding's top place confirms that royalty is still a ratings "banker" - but it's not only the weddings that have attracted huge audiences.
In 1984, the most popular programme was the Royal Variety Performance - an event which in the 1960s and 70s regularly headed the ratings.
In 1994, Panorama's interview with Diana Princess of Wales topped the list, with 22.78m tuning in, and in 1997 it was Diana's funeral, watched by 19.29m viewers on BBC One alone.
Ratings winners
Looking back at Barb's top 10s over the years it is clear sport can also still bring the nation together - particularly when there's a World Cup or Olympics.
In 2006, no fewer than six of the top 10 programmes were World Cup matches, with England v Sweden heading the list with 18.46m viewers.
The Euro 2004 match between England and Portugal topped that year's ratings with 20.66m viewers and in 1994, skating duo Torvill and Dean attracted 23.95m viewers with their Olympic ice dance.
And Saturday night entertainment, once thought to be past its primetime, remains a huge ratings-winner.
The X Factor Results topped the list in 2010 and Britain's Got Talent was top in 2009, while Strictly Come Dancing, Dancing On Ice and Doctor Who have all featured in the top 10 in recent years.
However, the 2011 chart is also notable for its low audience figures.
The Royal Wedding attracted just 13.59m viewers for its single-channel broadcast, the lowest figure for a number one show since ratings began. And EastEnders, the show in 10th position, had the third lowest top 10 figure in Barb history with 11.42m viewers.
But this does not mean, as some would have us believe, that people are watching less television overall. Viewing is simply being split among many more channels -which Barb has tracked the growth of too.
When Barb was first set up, it measured viewing on the only three channels in existence - BBC One, BBC Two and ITV. In 1991 it analysed 16 channels and a decade later, 131.
Last year it measured 280 channels, although there are hundreds more it doesn't include.
Consolidated figures
Far from TV viewing falling, 2010 was a record year for audiences, Barb says, with viewers spending more than four hours a day watching TV for the first time.
Thinkbox, which markets TV advertising, says digital technology has helped this by making programmes easier to find, record and catch up with, and by picking up more viewing on second sets.
The 2011 figures for total viewing will come out soon, and are unlikely to be far below that. But there's a downside to extra channels, digital TV recorders and more "catch-up viewing" - they cause greater confusion over which really are the most popular programmes.
Take viewing on Christmas Day 2011 - the next day several newspapers and BBC News reported that EastEnders had attracted the highest audience on Christmas Day, based on overnight audience figures.
But as Barb doesn't issue its final "consolidated" figures for another seven days, Downton Abbey later rose to overtake the soap after adding in the viewing on video recorders and HD channels (though not from repeats and the iPlayer).
Downton's audience went up from 8.1m to 11.59m - a remarkable boost, which shows just how far new technology is changing the way people watch TV.
With all this data, is it possible to calculate which were the biggest UK TV audiences of all time?
It is hard to answer because of changes in the rules and measurement systems over the years; however, the British Film Institute (BFI) tried to come up with definitive figures for 2005's Channel 4 series, Britain's Most Watched TV.
The BFI's lists - decade by decade - include programmes that were shown simultaneously on both ITV and the BBC and some repeat showings, neither of which is Barb's current practice.
According to its analysis, the BFI says the UK's biggest-ever TV audience England's 1966 World Cup Victory with 32.3m viewers across both BBC and ITV.
Second was the funeral of Diana Princess of Wales in 1997, with a combined BBC/ITV audience of 32.10m and in third place was the 1969 documentary Royal Family, with a 30.69 combined viewership.
It's this analysis that claims the 1981 royal wedding of Charles and Diana was watched by 28.40m viewers, putting it in seventh place.
On that basis, the 2011 royal wedding - with its combined audience of 26m - had the 10th highest UK TV audience of all time.
And that doesn't include viewing on the internet - which is going to make life even more difficult for the ratings compilers!