The Artist wins Producers Guild Award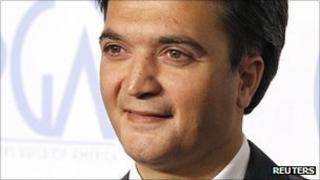 The Artist has continued its awards success, taking the top honour at the Producers Guild Awards in Los Angeles.
Producer Thomas Langmann received the award for his work on the silent film, which collected three Golden Globe prizes last week.
The film beat nine others to the title, including The Descendants, War Horse, Moneyball, The Help and Bridesmaids.
There was also British success for Downton Abbey, which won in the long-form television category.
"When Michel Hazanavicius and I dreamed of making The Artist, we knew we were dreaming of writing a love letter to American cinema," Langmann said in his acceptance speech.
"We never knew in return we would get a taste of the American dream."
Steven Spielberg's The Adventures of Tintin picked up best-produced animated film, beating the likes of Cars 2, Rango, Puss In Boots and Kung Fu Panda 2.
Other award winners included Beats, Rhymes and Life: The Travels of a Tribe Called Quest for best-produced documentary, which explores the journey of influential hip-hop group A Tribe Called Quest.
Angelina Jolie received the Stanley Kramer award - a prize recognising films that highlight provocative social issues - for her directorial debut, In the Land of Blood and Honey, which she also wrote and produced.
Spielberg was also awarded the David O Selznick achievement award and comic-book legend Stan Lee received the Vanguard award, presented by Spiderman actor Tobey Maguire.
In the other TV categories, Modern Family was named best-produced television comedy for a second consecutive year.
And Martin Scorsese-produced mobster saga Boardwalk Empire was named best-produced TV drama.
Meanwhile, The Artist was also named the UK regional film critics' film of the year.
The honour is voted for by arts and entertainment writers, critics and editors from all branches of UK regional media.
Previous winners include The Social Network (2011), Up (2010) and Slumdog Millionaire (2009).