Live music red tape likely to be relaxed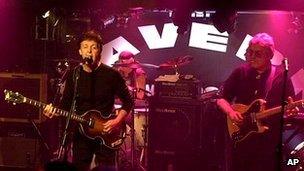 Legislation which will make it easier for small venues to host live music has been cleared in the House of Commons.
The private member's bill, introduced by Liberal Democrat Don Foster, will lift some of the bureaucracy imposed on gigs by the 2003 Licensing Act.
It means many venues will no longer need to pay for a licence to host live music between 08:00 and 23:00.
The bill passed unopposed and will have to go back to the House Of Lords briefly before becoming law.
Mr Foster described that next stage, on 10 February, as a "minor hurdle".
The MP from Bath was steering the bill through the House Of Commons on behalf of his Lib Dem colleague, Lord Clement Jones.
The success is a relatively rare example of a House of Lords private member's bill making it into law.
"It was said the Licensing Act 2003 was going to lead to an explosion of live music but, in the event, in small venues it was drastically cut," said Mr Foster.
"We saw village halls, school halls, pubs and clubs reducing the the amount of live music, not increasing it.
"Hopefully the bill, when it comes into law, will reverse that."
The changes will mean that a licence will no longer be required for unamplified live music taking place between 08:00 and 23:00, and for amplified live music taking place between the same times before audiences of no more than 200.
Separate to the private member's bill, the government is conducting its own review of the Licensing Act.
A consultation paper launched by Tourism Minister John Penrose in September proposed scrapping much of the act.
Mr Penrose called current regulations "a mess" and said licences were being issued "for many events where there is little or no risk of trouble".
Potentially more far-reaching than the private member's bill, his paper looked at relaxing the rules on everything from plays and live music to indoor sports.
However, the government made it clear there would be no changes on the rules controlling gatherings of more than 5,000 people, boxing and wrestling, and events classed as sexual entertainment.
Although the proposals were largely welcomed by musicians and pub owners, a survey conducted by the Institute of Licensing found some of its members had "concerns" about noise and safety implications.
The consultation process ended in December, but no further announcements have been made.
Related Internet Links
The BBC is not responsible for the content of external sites.