Daniel Radcliffe defends casting as poet Allen Ginsberg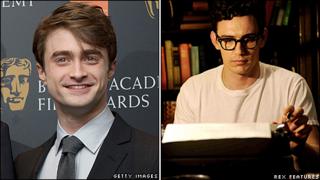 Daniel Radcliffe says he has prepared a defence against people who criticise his casting as US poet Allen Ginsberg.
The writer was famously unkempt with an unruly beard - a very different look to the clean-shaven Harry Potter star.
But Radcliffe said he had no qualms about his looks after James Franco portrayed Ginsberg in 2010's Howl.
He told the BBC: "Any criticism of me not looking right for the part - well, James Franco is way too good-looking to play Allen Ginsberg."
Radcliffe, 22, will play a young Ginsberg in the forthcoming thriller Kill Your Darlings.
The film is based on the true story of the murder of David Kammerer, an event that united the beat poet Jack Kerouac and William Burroughs at Columbia University in 1944.
Principal photography for the film starts on 12 March in New York.
Ginsberg, famed for his 1957 poem Howl, was one of the leading figures of the 1950s beat generation of US artists.
The beat writers rejected materialism and conformity and promoted personal freedom and the use of mind-altering drugs.
Ginsberg has previously been played by comedian David Cross in the 2007 film I'm Not There; and Franco, whose film dramatised the obscenity trial surrounding Howl.
Radcliffe told BBC News: "I won't watch any of them because I'm a terrible copycat".
Although the most famous image of the poet is as a balding 30-year-old with a full beard, Radcliffe said he would not be trying to recreate the look.
"This is a 19-year old Ginsberg," he said. "I remember somebody saying to me, 'Are you going to grow a beard?'
"No, l'm not playing him at 40. That would be weird, they wouldn't have cast me. He's 19, clean shaven and has just got into Columbia University."
Good taste
The role is the latest dramatic outing for Radcliffe since the end of the successful Potter franchise.
Previously, he has stripped on stage for the play Equus and starred in a Broadway revival of the musical How to Succeed in Business Without Really Trying.
He will next be seen as a grieving husband and father in horror film, The Woman in Black, based on the long-running stage show.
Radcliffe said he was committed to showing his versatility as an actor.
"I think it's as important to me, as it is any actor who has any aspirations of having a long career," he said.
"Ultimately, I think it's about showing people that you have good taste, I suppose.
"For instance, if a Brad Pitt film comes out, I'll go and see it because, even if I know nothing about the film, I know he's got pretty good taste and it's going to be interesting at the very least.
"I suppose it's about letting people know that I'm doing the type of films they want to see."