Simon Cowell: 'I got too cocky'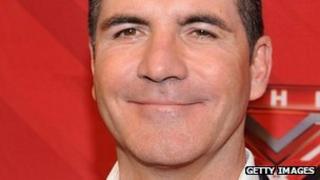 Simon Cowell has said his ego has been "put in check" after a year of falling ratings and controversy surrounding his TV shows.
The media mogul said he "got a bit smug" and "too arrogant" after a successful 2010.
Cowell made the comments ahead of the launch of this year's Britain's Got Talent auditions in Salford.
On the red carpet, he told the BBC's Colin Paterson: "I had a big bottom lip at the end of last year."
"It was a tough year, but it wasn't a horrible year. I just realise you have to do things better and not feel sorry for yourself," he said.
Cowell told journalists on Thursday: "We went into 2011 thinking: 'It's all going to be easy' - and of course it wasn't, it was a massive wake-up call."
Last year saw the 52-year-old abandon his UK shows in order to launch a US version of X Factor.
During that time, ratings for the UK edition fell below those of BBC rival Strictly Come Dancing for the first time in a number of years. Meanwhile, viewing figures for the US X Factor came in well below the predicted 20 million.
Britain's Got Talent was also hit by fixing claims; while Cowell's new gameshow Red or Black made headlines after £1m winner Nathan Hageman was discovered to have been jailed for assaulting a woman.
After only sitting on the judging panel of Britain's Got Talent during the finals last year, Cowell said he was returning to his role as head judge because he felt the panel did not do "a good enough job".
Two of last year's judges, actor David Hasselhoff and comedian Michael McIntyre, have been replaced by Little Britain star David Walliams and former Strictly Come Dancing judge Alesha Dixon.
Cowell said the decision to cast Dixon was motivated by the fact she was working on a rival BBC show.
"I like the fact this is now a competition with the BBC and it makes us work harder," he said.
Dixon ducked the issue when interviewed by the BBC, saying Cowell hired her because "he likes the fact I'm gobby".
"I'm trying to be a bit more eloquent but I like the idea of playing a part in somebody's career," she added.
Walliams said it was a good year for him to join the judging panel because Cowell was returning to the show.
"These shows aren't the same when he's not there because he's the one you look forward to seeing - and I'm going to be close enough to smell him."
Previous winners and runners up of the talent show have gone on to enjoy bigger and better things including Susan Boyle, Paul Potts and dance troupe Diversity.
However last year's victor, Jai McDowall, failed to match their success, with his debut album peaking at number 54.
Cowell told the BBC such limited success damaged the programme, making it "redundant".
"If you don't find a star there's no point making the show, so if we don't find a star this year we've got a problem."
Newspapers have speculated that the latest series of Britain's Got Talent will go up against the BBC's new singing show The Voice - although neither ITV nor the BBC has confirmed its schedule.
Meanwhile, Cowell has vowed to revamp the US version of the X Factor, but gave no indication that he would return as a judge to the UK show. "Anything could happen", he told journalists.