Nanni Moretti to head Cannes jury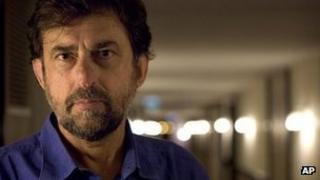 Acclaimed Italian director and actor Nanni Moretti will head the jury at this year's Cannes Film Festival, organisers have announced.
The veteran filmmaker scooped the prestigious Palme d'Or award for The Son's Room in 2001.
The 58-year-old said it was "a joy, an honour and a great responsibility" to preside over the jury.
Organisers said Moretti's films "are the incarnation of all the best in cinema over the past 30 years.''
Moretti was also named best director in 1994 for Dear Diary (Caro Diario). He has has presented six films at the event, including last year's comedy We Have a Pope (Habemus Papam) and the Berlusconi satire The Caiman (Il Caimano).
'Great privilege'
"As a director, I was always very moved when my films were presented at the Festival de Cannes," he said.
The star previously served as a member of the jury at the 50th edition of the festival in 1997.
"I also have very happy memories of my experience as a jury member during the fiftieth anniversary season, and of the attentiveness and passion that went into the jury's viewing.
"As an audience member, I happily conserve the same curiosity I had in my youth... for me it's a great privilege to embark on this journey into contemporary global cinema," he said.
The Italian follows in the footsteps of Hollywood star Robert De Niro, who led the jury last year. The 11-day event starts on 16 May.